There are many different budget and retirement trackers on the market, and many charge ridiculous fees to use their services.  I am not a proponent for paying for something you could get for free, so that is why I want to talk about a free tracker that I personally use to evaluate my finances.
The Corrupt Finance Industry
If you have been following my blog for long, you know I am not a fan of the finance industry.  There is a seemingly unlimited number of investment companies out there.  These companies sell terrible products that make them money rather than the investor.
I have written multiple articles about this in, The Hidden Fees In My Employer Sponsored Retirement Plan, and Exposing The Mutual Fund Industry.  In addition, I have advised you to stay away from the investing Apps,  Stash and Acorns.
This may not seem like a big deal, but in the finance blogging community, this is like shooting yourself in the foot if you want to make any money.  Stash and Acorns pay bloggers to talk up and promote their products – as do other investment services, so needless to say I'm not going to be making any money from them.  I refuse to promote products that make me money at the expense of my readers.  I have a full-time job so I don't need to sacrifice my morals for money!
While I may be making a negative name for myself in the financial community, I am glad I can be someone acting in your best interest.  My own mother reads this blog so I wanted to bring a fresh new insight without ulterior motives to actually educate people for their benefit, not mine.  I was tired of seeing my friends and family flounder with their finances because they didn't know who they could trust with their money.  Anything I do recommend on this blog will be services I personally use or have used, and am willing to put my name behind.
Without further ado, let's talk about the budget and retirement tool I use.
You may have seen commercials for Personal Capital on the internet or TV recently because they are an up and coming investment company.  With that being said, as of right now they are acting in the best interest of their clients and haven't sold out for money like many other companies.
In a nutshell, it is a website that links all of your financial accounts, for free to see a clear real-time view of your entire financial life.  This includes your retirement accounts, your checking and savings accounts as well as credit card accounts.  It's a one shop stop for an overview of your finances without having to log into 10 different sites.
When I first started using it, I was pleasantly surprised how easy it was to link all my accounts and how it displayed them for me on one screen.  I was able to see how much net worth I had accumulated and how much in liabilities I still owed.  I am a visual person, so this was the perfect set up for me.
Here are a couple of snapshot examples of what the free interface looks like: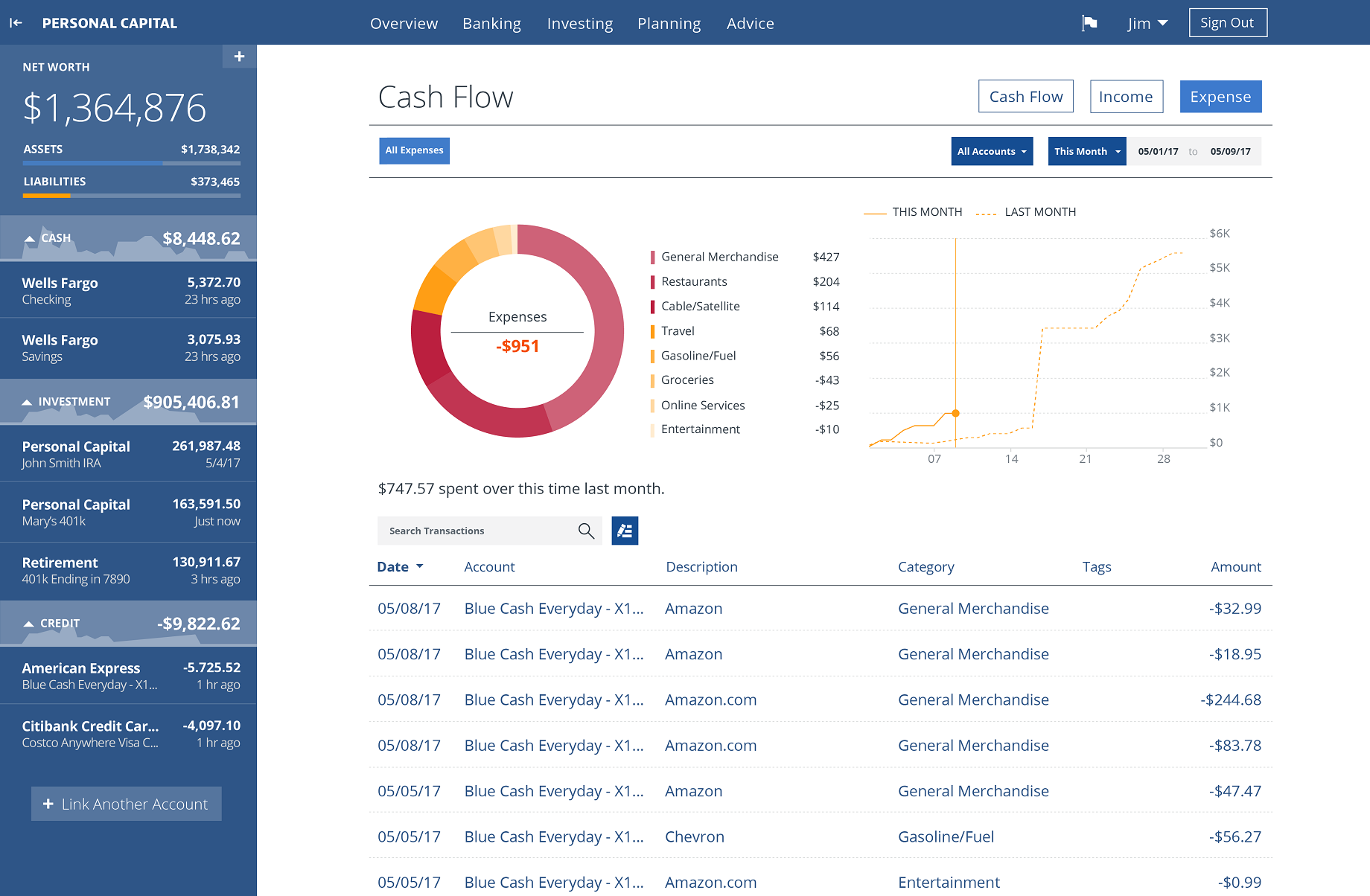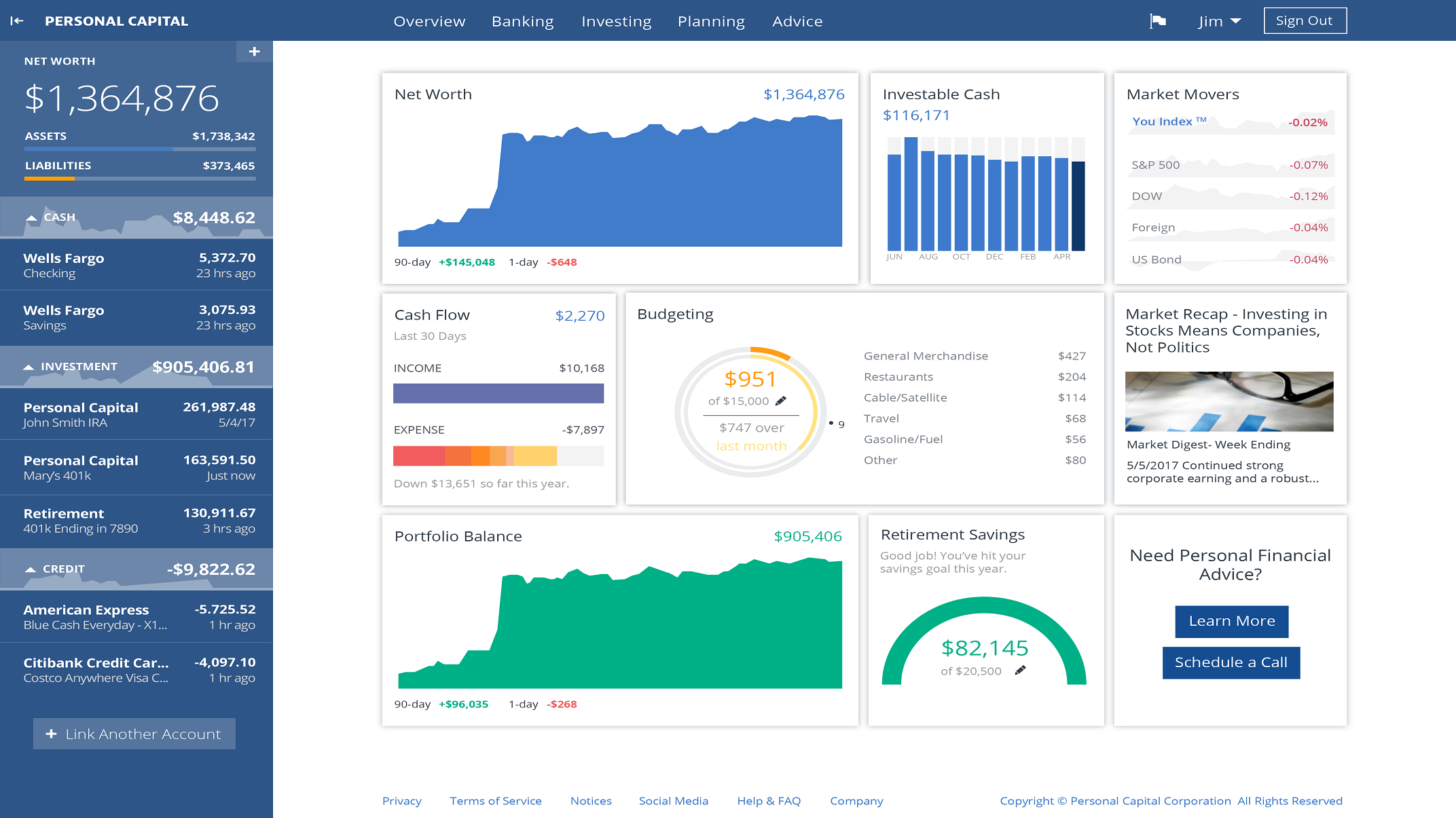 Now, these are not my screenshots, because I'm not worth 1.3 million yet.  🙂  However, if you look at the first screenshot, you can see that you can use this program to track your expenses to work in conjunction with your budget.  The second screenshot shows more of an overall screenshot of your retirement savings and portfolio balances.  Keep in mind, this is all included in the free plan!
In addition to the overall linking and view of your personal finances, each person that links their account is provided with a free personal investment adviser.  The adviser will work with you and give you recommendations on what areas you could improve, and what is working.  These advisers are fiduciaries (my favorite type of adviser) which is even more reason to give them a second look.
Some of the top areas that are analyzed and provided in an easy to follow format is:
The Investment Checkup
This is an investment tool that analyzes your investments and your risk assessments to make sure that all your eggs are not in one basket.  This will help give an overall perspective of where you are investing, in order to give you the best insight on how you should diversify your funds.
Join 14,266 other Arrest Your Debt subscribers who are learning how to get out of debt and build wealth!
401(k) Fund Allocation
Rather than relying on your retirement sponsored fund overview, this program will provide an outside look into your plan to see how it is performing, and how your assets are allocated.  It will provide investment advice that you can implement with your current 401(k) plan.
Retirement Planner
The retirement planner looks at all of your retirement accounts combined, to include your 401(k), Roth IRA, mutual funds, and any other investment sources.  It combines all of them together for a snapshot of where you are as a whole, rather than trying to look at each one individually.
Cash Flow Analyzer
Personal Capital is geared towards investments but can also be used to help you budget.  It will identify how much money you started with and where it all went during the month.  I am a big proponent on tracking your expenses (obviously) and this is another tool in your tool belt to do just that.
Mobile App
Since we do not use desktops as much as we used to, the mobile app is a must in this day and age.  Luckily, Personal Capital has provided an easy to use app to check on your finances throughout the day with minimal effort.
So What's The Catch?

I'm right there with you.  People don't give anything away for free anymore unless there is a catch.  Why would Personal Capital provide all these services for free?  The hardcore truth is they are offering these free resources in the hopes that they can entice you to invest with them at a later date.  They have a paid service as well that offers even more tools that can help you get to where you want to be.
What I love about Personal Capital is that you can take advantage of all the free tools they offer without actually having to commit to anything.  You do not need to give them your credit card for a "free trial" that will end up auto charging you buckets after the trial ends.
I encourage you to give Personal Capital a try by clicking the banner below and seeing what this free tool can do for you.  Again, I refuse to promote anything that I do not or have not tried in the past. If you would like to give it a shot, click the banner below and sign up for free.
If you have any questions, feel free to reach out to me, and if Personal Capital was helpful for you, please leave a comment below to encourage others to try it out!
I look forward to hearing from you and please subscribe by email below!  Keep at it my friends, you work too hard to be this broke!
-Ryan