-because where you get your information matters.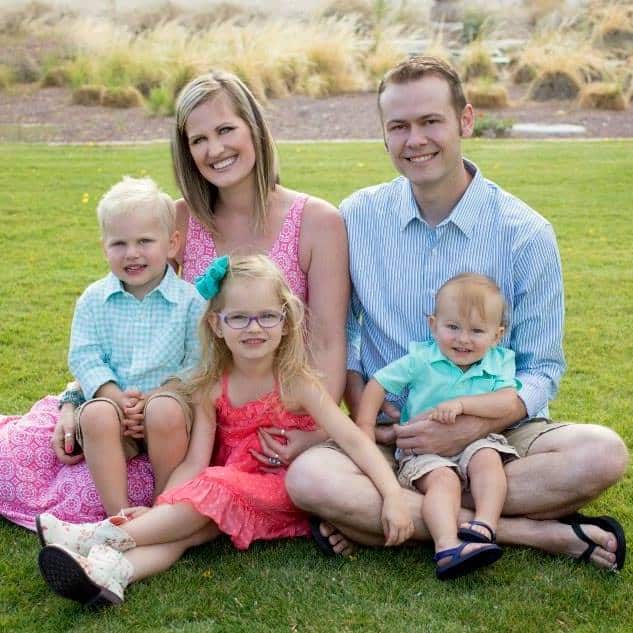 A Little Bit About Me
Welcome! My name is Courtney Luke, and I am a mother of three, a wife, a financial coach, and married to a full-time police lieutenant for a large agency in Arizona. He has been a sworn law enforcement officer for over 17 years and loves what he does.
In addition, I am a stay-at-home mom, so I know how financial issues can significantly increase stress in your personal life.
I Was Bad With Money – And Stressed
Flashback to the year 2009 – I was newly married with a brand new baby. We lived in a small condo I purchased in 2004 on an interest-only loan with a five-year Adjustable Rate Mortgage (ARM). Unfortunately, after having our first child, my interest-only loan was restructured due to our five-year contract running out.
After the mandatory restructure, our payment skyrocketed and we were unable to make our mortgage payment.
**Insert an embarrassing foreclosure here.**
Newly married with a brand new baby, and we were unable to provide for our family. That was rock bottom for us.
Embarrassed, confused, and angry, my husband and I decided to change our course. We found he was the main culprit in our terrible financial situation because he spent about $1,000 a month eating out at restaurants.
We each had car payments totalling about $1,000 as well and lived paycheck to paycheck.
I nearly forgot to mention; he put my engagement and wedding ring on a credit card that we were still paying off. You read that right – I was helping him pay off my own engagement ring.
How I Changed My Financial Course [and you can too!]
Fast forward 10 years, and we now have paid our new home off and have no debt to our name. We are essentially financially free!
I have always been interested in personal finance and the mystical way people could live debt-free and exponentially grow their wealth. The problem was, I had no idea how to do it.
I Want To Trust Others – But It's Hard
A little over 10 years ago, I decided to meet with a financial advisor. I couldn't help but look around the room during the meeting and judge everything I was being told. I wanted to trust the advisor, but I couldn't help but feel like she only wanted my money.
Long story short, I left that office feeling even more uncomfortable with people in the finance industry. You can read more about my experience with the financial advisor if you want to learn more.
I decided that if I wanted to protect my family financially, I needed to learn the basics of personal finance on my own.
This began my long self-taught process by reading every finance book I could get my hands on, attending financial seminars, and actively listening to financial podcasts.
I quickly learned that financial education is something they do not teach us in school, at home, or in the police or fire departments.
Financial literacy is a first responder wellness program that is missing in most of our employee wellness classes.
Fast forward 10 years, and I have committed most of my free time to run this blog and coach first responders on how to make their money work for them rather than working for their money.
Since I began, we have been featured on MarketWatch, Forbes, Fox Business, Experian, MSN, Ladders, and USA Today. By focusing on providing easy-to-understand personal finance information to first responders, we have been able to help many of our brothers and sisters get out of debt and build wealth – even on a public servant salary!
First Responders Don't Have To Be Poor
Throughout my husband's career, I repeatedly heard, "we didn't become cops for the money." But, unfortunately, this statement is usually said by those who have too many payments and not enough money at the end of each month.
However, I have found that even on a public servant salary, we can still retire millionaires – in addition to our pensions! What's more? It's not as difficult as you think.
This blog is dedicated to help you understand how to take control of your money, live debt free, and retire with more cash than you ever thought possible!
The Mission Of Arrest Your Debt
There are three main areas of focus for Arrest Your Debt:
1. To provide trustworthy personal finance information to first responders.
2. To help first responders take control of their money and get out of debt.
3. To provide valuable resources and references to first responders to help them grow their nest eggs and enjoy the retirement they deserve.
Where You Should Start
Head on over to my First Steps Page to find out what you can do to change your financial future. It's time to dig yourself out of debt and eliminate your money problems once and for all – even on a public servant salary.
Have A Comment Or Question?
Send me a message at courtney@arrestyourdebt.com