Let's Face It – Paying Off Debt Is Hard
This is why I have created these Money Goal Coloring Pages for you to see and track your progress!
If you're like me, you need something visual to keep you motivated. With these pages, each day I can track my money goal progress and see how much left I have to pay off or save up.
Click any image below to add it to your cart. You can then download and print them immediately!
How To Use The Money Coloring Pages:
These worksheets are highly customizable to your exact money goals. So it doesn't matter how much debt you have or how much you need to save; you can customize these pages to meet your needs!
The first step is to identify what money goal you want to work on first. Keep in mind, you should be focusing your debt payoff or savings towards one specific goal. If you are focusing on too many goals at once, you will go nowhere fast. Instead, laser focus your income on accomplishing your goals faster!
If you need help determining the best way to pay off your debt, check out my related article here on how to get out of debt even if you're living paycheck to paycheck!
Step 1: Download And Print Your Money Goal Worksheet
After entering your email address and placing your order, each sheet will be sent to you in a .PDF format. Save this file to your computer so you can use it over and over again – or give one to your friends!
PDF formats are easily printable, and most computers have Adobe Reader to open this type of file.
After you have downloaded the file, print out the worksheet on whatever type of paper you would like. The heavier and better quality the paper, the more professional the coloring page will look while you color it.
Step 2: Identifying The Number Section
When you download your sheet, the number section will be blank. This leaves the sheet open for you to make it exactly how you like it and for you to customize the money goal worksheet to meet your specific needs!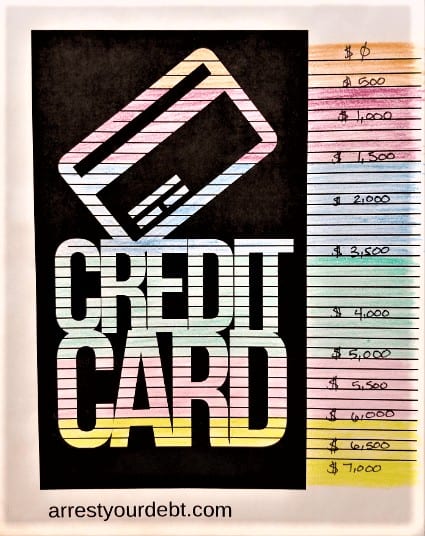 Step 3: Add In Your Own Numbers
These sheets are made to start coloring from the bottom up to the top. When you reach your goal, you should finish your sheet by coloring in the top line at the top of the page. To do this, it depends on which goal sheet you are working on.
For Debt Coloring Pages:
For instance, if you are working towards paying off a debt, the top line of the page should be a $0.00 balance. This indicates you paid off the debt! The total amount you owe should be on the bottom line of the coloring sheet. This is where you will start.
For Savings Coloring Pages:
If you are working towards a savings goal, the largest number should be at the top of the page. The number you are starting at should be on the bottom line of the page.
For instance, if you are working on your emergency savings and are just starting, the bottom of your sheet will be $0.00, and the top will be $2,000 (or your goal number). I recommend a savings goal of $2,000 – for more information, check out my related article on emergency funds here!
Feel free to write as many numbers as you would like. From my examples, you can see I skipped several hundred or thousand for each goal. You can label every line or skip a few to the next milestone. Design the pages however you would like!
How To Color The Pages:
As you move closer towards your savings or debt payoff goals, color in the lines on the chart up to the top as you move closer to your goal.
For instance, if you are saving up your emergency fund, color the lines across the page up to each milestone you have labeled.
Keep Your Pages Out In The Open To Keep You Motivated!
Don't stash these pages in a drawer or you may forget about them. Put them up on your refrigerator or somewhere else so you will see them each day. Keep with it, eventually, your sheet will be colored in!
Additional Resources To Help You Meet Your Money Goals:
I have several other resources to help you pay off debt and meet your money goals. In addition, I also designed several free budget printables that will help you set up your budget and start tackling your debt. Check out these resources below for further help!