There are many places online where you can sell your clothing, as well as other items. The latest and greatest app is Mercari – and my wife is addicted to it. Because of this, I decided to write a thorough Mercari review and analyze the pros and cons of the app.
But what exactly is Mercari, and how does it all work? How does it compare to other marketplaces such as Poshmark? Before you ask any more questions, make sure you read our Mercari review. We're going to tell you everything you need to know.
What Is Mercari?
Mercari is an online marketplace that allows you to buy and sell items. You can buy almost anything on the site, which means you can sell just about anything you can imagine on Mercari. In addition, you can earn money by referring other people to the site.
The best part is that you don't have to be in a physical location to use the service. All you need is an internet connection. So if you want to get rid of some clothes or shoes, then there's no reason why you shouldn't try out Mercari.
The History Of Mercari
Shintaro Yamada, a Japanese entrepreneur, first created the Mercari business model. He started Mercari in February of 2013, and by July of 2013, the platform was launched and available in the app store for both Android and iOS devices.
A year later, in 2014, the Mercari company opened an office in San Francisco, California, to facilitate a push into the United States market. Since its inception, the Mercari app has been downloaded more than 45 million times and has reached the app store's number three position.
How Does It Work?
You can use Mercari in a couple of different ways:
1. Sell Items – If you want to make some extra cash selling your own stuff, this is the best way to do it. Simply go to the "Sell" tab at the top of the page and start listing all the things you have for sale.
2. Buy Items – This is also a great option if you don't want to list your own items. Instead, you can browse through thousands of items listed by others.
How To Get Started On Mercari
Signing up for Mercari was extremely easy. I was able to use my primary email address or my Facebook account to create a profile.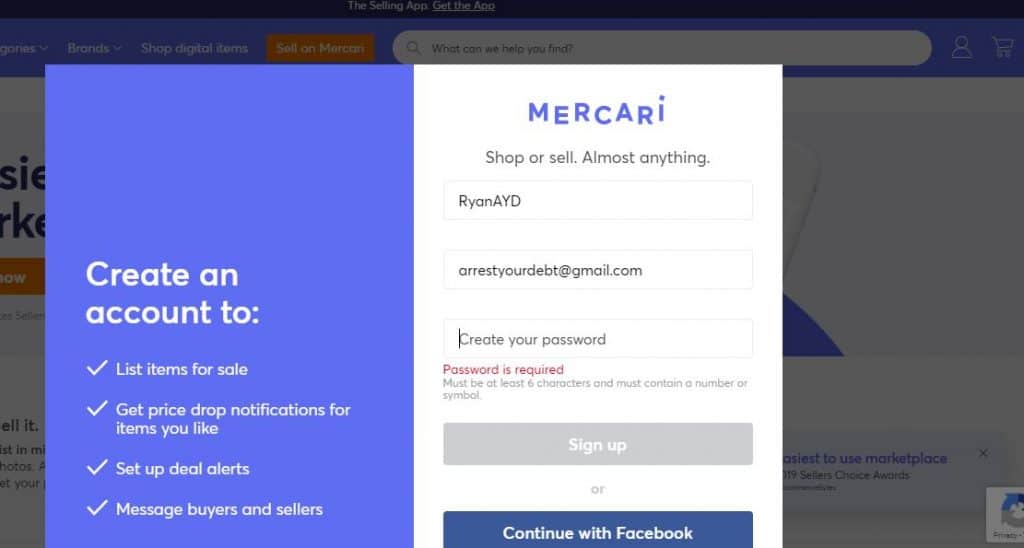 After signing up, they sent me a confirmation link, and I was able to access the platform.
Browsing The Platform
When I first logged in, I was pleasantly surprised at how simple it was to browse categories and search for specific items.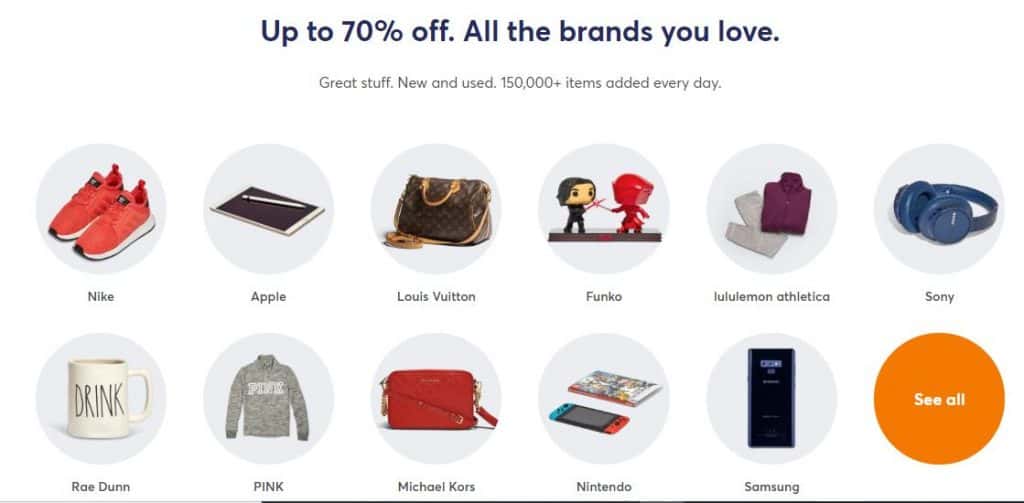 Besides being able to browse for items generally, Mercari also displays popular items in its main categories.
These suggestions were displayed in the following categories:
Authentic Handbags
Most of the items that were displayed were listed at around 70% less than the retail price.
Deals For Her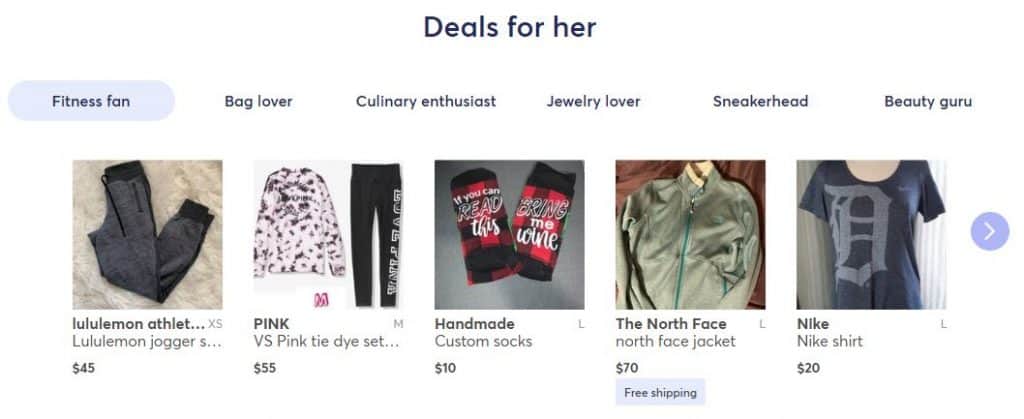 Unfortunately, this is now where my wife spends the majority of her time. However, lucky for me, the items are considerably cheaper than buying them from the store.
Deals For Him
Mercari doesn't forget about the guys. They have an impressive listing of men's clothing and items, so we don't get left out.
Deals For the Kids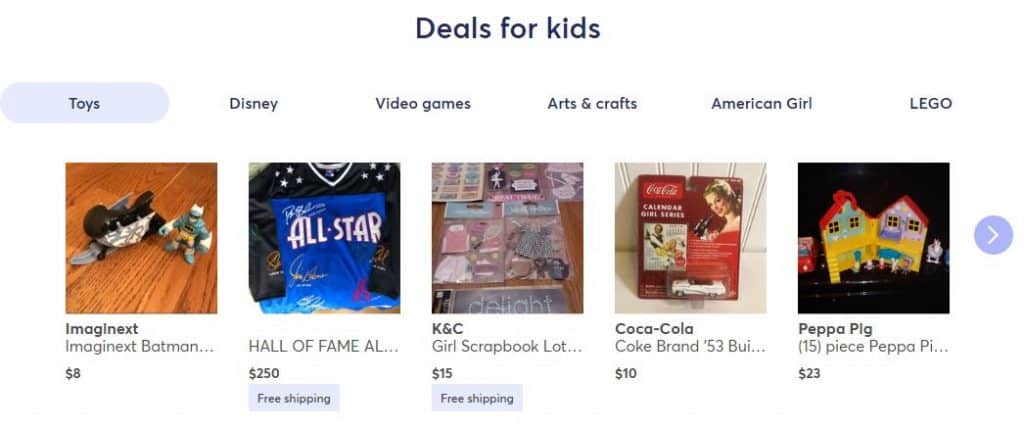 Am I the only one who likes browsing the kids' section? Tell me I'm not alone in this.
Deals For The Tech Obsessed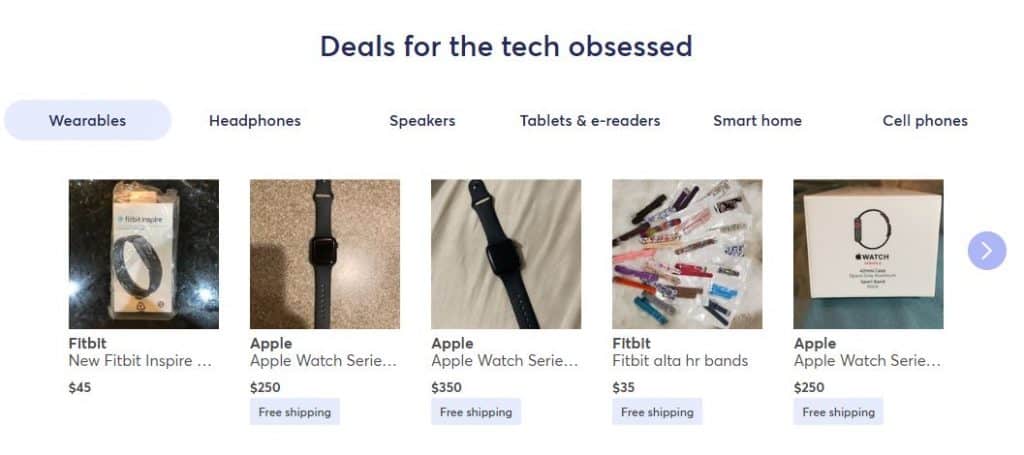 Another of my favorite areas is the electronic section. In fact, my wife recently picked up 4 Amazon Echo devices for half off. Why did we need 4 Amazon Echos? I have no clue, but apparently, the price was too good to pass up.
Now I just need a place to put all of these things.
Kitchen And Dining
Last but not least, they have a featured kitchen and dining section. Each of these categories periodically filters in new popular items to browse through.
Looking At Specific Items
What I liked about the Mercari platform is buying the item for the listed price or offering a lower cost to the seller. Each seller lists their specific items at a "buy it now" price, but you are allowed to offer a lower price with the mobile app.
My wife has been successful several times by offering less than the asking price and the seller accepting.
Another cool feature is the "like" button. It is a heart in the top corner of the photo of an individual item. We had a great experience with this feature.
My wife "liked" an item to remember to keep it for later. Well, it turns out that when you like an item, the seller is notified of your interest. Three days after liking the product, the seller sent us a message and offered to sell it for a lower price.
Sweet!
Selling On Mercari – How Do You Sell On Mercari?
As for how it works for sellers, there are three main steps involved. They are:
Selling – Step 1
Snap a photo or two of the item/items you want to sell. Then you'll write a short description of it before setting its selling price.
Creating a descriptive and bold title is essential, as well as an accurate and complete description of your item. The more information you can write about the item you are selling – the better.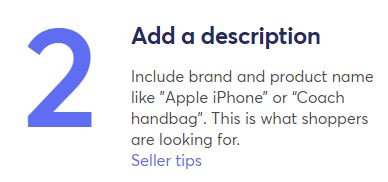 More information makes you look more authoritative and legitimate as a seller to demand top dollar for your items.
The next step is to place your item into a specific category to make it easier for people to find your item while browsing.
A brand and condition should also be entered. Remember, you will not receive payment until after the buyer has rated you and the item.
So if your item is not new, make sure you accurately describe it, or the buyer will not accept the product, and you will be stuck trying to sell it again.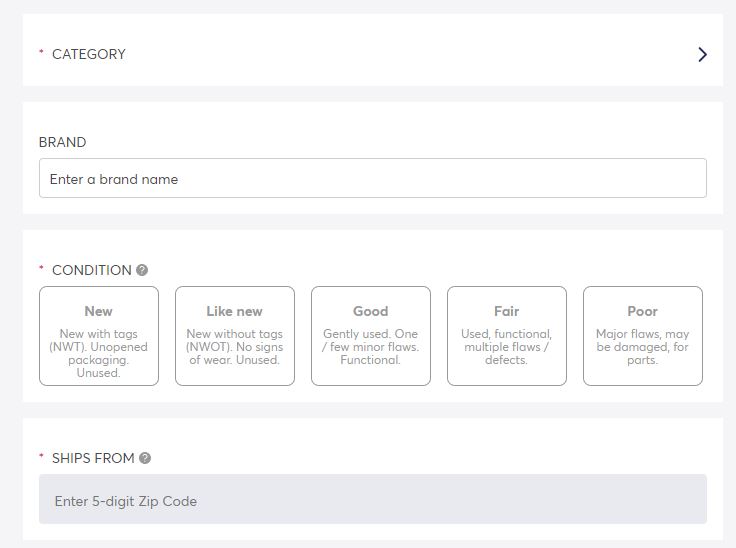 To correctly calculate shipping, you must enter your Zip Code. This will ensure accurate shipping calculations during the transaction.
Finally, you get to set your requested price. Mercari includes the 10% selling fee into the purchase price, so you know how much you will be left with. I really like this aspect of Mercari because if your item does not sell, you don't owe anything.
You only pay Mercari when your item sells.
Selling – Step 2
When your item is purchased, you'll be sent an electronic packing and shipping label. Mercari pays for this, and all you have to do is print the label, pack, and ship the item.
Selling – Step 3
The buyer will rate the transaction after they have received their item. This is to protect the buyer, so they can verify the item you sent is the one they bought.
After that, Mercari sends you your payment.
Buying On Mercari – What's It Like For Buyers?
I know I previously explained the buying process, but I want to simplify it in three main steps.
Buying – Step 1
Buyers browse items that range from clothing to beauty products to novelty items and pretty much anything else you can think of.
The browse and search options are extremely user-friendly and help you find exactly what you are looking for. Once you find that perfect item, it's time to see if you can get it for the very best price.
Buying – Step 2
Buyers can either select the "Buy Button" to purchase the item for the requested price or use the mobile app to send a lower offer to the seller. If the purchase is approved, the seller will ship the order within three days.
Buying – Step 3
The final step involves rating the seller and the item. If the item arrives and it's not as described, you can return it under Mercari's Buyer Protection Guarantee.
However, if the product is as described, then the buyer's payment is released.
As of now, there is no best price guarantee on Mercari. Some marketplaces have this policy, but Mercari currently does not.
In a worst-case scenario, you can request a refund or a return within three days of delivery.
Is Mercari Legitimate?
In the eCommerce space, there are scams everywhere. However, speaking from personal experience, Mercari is 100% legitimate.
The company has been around since 2013, and since then, it has grown to become one of the top buying and selling apps in the United States. As of this writing, the Mercari app has been downloaded just over 45 million times in the US.
Not only that, but an average of 150K listings are published every single day.
Another point we'd like to make is the rating the app has on Google Play. They maintain an average of 4.5 stars on the Google Play store. Their average App Store rating is 4.8 stars.
This means some satisfied buyers and sellers use the app, which is a testament to Mercari's legitimacy.
The bottom line is Mercari is not a scam. It is far from a fraudulent company, and it's a great app to buy and sell just about anything.
Mercari BBB Business Profile
According to the Better Business Bureau, Mercari has a physical location at:
1530 Page Mill Rd #100

Palo Alto, CA 94304-114

(888) 325-2168
Mercari has been accredited since 10/3/2014 and has an A+ rating with 220 employees.
The current CEO is John Lagerling.
Selling On Mercari – Is It Worth It?
Yes, it is worth it to sell your stuff on the app. Let me give you five reasons why:
Reason #1 – Popularity
As previously mentioned, the Mercari app has been downloaded over 40 million times, and there are hundreds of thousands of users who buy and sell regularly using the app.
With so many potential buyers, you have a good chance of selling your items.
Reason #2 – Ease Of Use
Using Mercari as a seller is straightforward. You signup for an account, and once everything is set up, you can list your items immediately.
Reason #3 – No Meetups
Have you ever tried to sell anything on Offer Up or Craigslist? I don't know about you, but I feel like a drug dealer meeting people on a corner – hoping they don't jump me and take all my money.
Is Mercari safe? Absolutely – not having to meet up with the buyer is awesome.
Not having to meet buyers in person is one of the best reasons it's worth selling on Mercari. Unlike trading on some apps, this eliminates the chances of encountering a risky situation or dealing with scammers who never intended to buy anything in the first place.
Reason #4 – You Can Make Good Money
Mercari offers you a way to make money fast. Whether it's extra cash you're after, or you want to earn a fair amount, the app gives you both opportunities.
Best of all, Mercari lets you make money from home or anywhere, for that matter.
Reason #5 – You Can Start An Online Business
Many people use buying and selling apps as side hustles. However, you can use Mercari as a foundation for an online business.
You can do a bit of thrift buying online and then resell the items on Mercari. Remember, you don't meet up with anyone, and pre-printed shipping labels are used, which means you don't spend your own money on shipping and labeling.
How Much Mercari Charges
Mercari charges a 10% fee for each sale. It does not cost any initial money to list your items.
Also, there is a $2 fee if you want to receive a $10 or less direct deposit payment. If you prefer to be paid instantly, then you'll be charged a $2 fee (not recommended).
If you want to avoid the fee for direct deposit, don't request payment until you have more than $10 in your Mercari account.
The 10% fee on sales is more than reasonable. Just make sure you keep the percentage they take in mind when the time comes to set your prices.
Mercari And Shipping Charges
Sellers can either include the shipping in the price or have the buyers pay the shipping separately. If you want to include free shipping, then you'll be the one paying for it out of your sale.
Otherwise, it is the buyer who will pay shipping fees.
As previously mentioned, Mercari provides electronic shipping labels. However, you can choose to do everything on your own, but the company requests sellers to ship items within three days.
This means you'll want to sort out where you'll have the item shipped from. I prefer the UPS Store, but the Post Office or FedEx are other options.
Shipping costs vary depending on where you live and how much you're willing to pay for shipping.
Mercari Fees
There are three main fees: seller fees, transaction, and payment fees.
Seller Fees
When you create a new listing, there is no initial fee. However, there is a 10% minimum fee attached to the sale of an item that is charged to the seller.
Transaction Fees and Payment Fees
Depending on how you withdraw your money, Mercari charges separate fees for these actions. The seller pays a payment processing fee of 2.9% of the item price in addition to a $0.30 charge levied on each item.
Direct Deposit Fees
If you make a direct deposit of $10 or more to your bank, there is no fee charged by Mercari.
If your direct deposit is under $10, there is a $2.00 fee added.
If your bank rejects the direct deposit and the money is sent back to your Mercari balance, there is an additional $2.00 fee.
For Instant Pay transfers, Mercari charges a $2.00 fee.
Why Mercari Shipping Is So Cheap
The main reason why Mercari shipping is so cheap is that they offer fixed rates via FedEx or USPS.
The fixed rates are for packages that weigh up to 150lbs, and the longer side can't be more than 45 inches. The second-longest side can be no longer than 20 inches.
Items That Sell Best On Mercari
If you want to know how to make money, and a lot of it on Mercari, then you need to know what sells best on the app. The truth is that just about anything can be sold and does sell well. However, the best items that seem to sell quickly appear to be electronics, clothing for babies and women, and handmade products.
Do you want to get paid to sell electronics and other products? It doesn't matter what you want to sell; the chances are you can sell it on Mercari. If you take good photos of your items and write up good descriptions, then there's a good chance your items will sell.
Items You Can't Sell On Mercari
Obviously, you can't sell anything illegal. Nor can you sell weapons, firearms, alcohol, drugs (legal or not), animals, and things of that nature.
Most buying and selling platforms don't allow you to sell items that fall within those categories.
Although this shouldn't have to be said, Mercari doesn't share personal data or sell it. This means you should never attempt to sell personal data via the platform.
Unfortunately, there are scammers everywhere, and they even try to use Mercari to sell stuff they know they shouldn't. If you're in doubt about whether or not you can list your item, then simply reach out to the Mercari team. They'll be more than happy to tell you if you can or cannot sell your items on their platform
Products Sold On Mercari
Mercari is similar to other marketplaces, which means people can sell both used and new items. You can sell your used electronics, used clothing, and many other used items via the app.
The same goes for new stuff, but Mercari does suggest you set the price on new and unused items at around 70% of their original value. You are not required to do this, but it's a strong suggestion.
Beware of Counterfeit Items
Counterfeit items are items that are cheap knock-offs passed as genuine legitimate items. A cheap reproduction of an item is an illegal practice. Some popular counterfeit items are:
Purses and handbags
Sports Jerseys
Shoes
Electronics
Clothing
Jewelry
Home Goods
There are many others that may be found on Mercari. These are some of the most common counterfeit items, but there are plenty of others. If you locate any counterfeit items, be sure to report this suspicious activity immediately.
I Want To Sell – How Am I Protected?

There are several ways Mercari protects sellers. They offer a seller payment guarantee, which means if your product is delivered as promised, you get paid.
Also, you have shipping protection. Your items are insured for up to $200, and the insurance covers you if your items are damaged or lost in transit.
Mercari Gives You $10 For Signing Up!
A friend of mine introduced me to Mercari, and I received a 10 dollar credit for my first purchase. If you're interested in receiving a free $10 signup bonus, you need to go through a referral link.
You're in luck; I have a referral link for you here!
(or click the image below)
Mercari And Paypal
As a seller, you do not have the option to be paid via PayPal. Buyers are allowed to pay for items via PayPal, but sellers don't have that option to get paid.
How Does Mercari Pay Me?
To receive payment, you need to link your bank account or debit card to the Mercari platform. With Instant Pay, you can request your money and have it in minutes on your debit card. Otherwise, you request your money and wait a period of time for it to arrive in your bank account.
Mercari does state they will let sellers know as soon as other payout options are available.
Mercari And Taxes
Buyers are required to pay sales tax if they are based in individual states. As of now, Mercari collects and remits sales taxes from sellers in 34 states. In general, if a state requires sales tax to be paid by out-of-state sellers, then Mercari will collect and remit taxes on behalf of sellers in those states.
Complaints About Mercari
OK, so nothing's perfect, so what's the catch?
You're right – while there are many positives to working with Mercari, there are also some common complaints.
A common complaint involves buyers rejecting items because they were not as described. Buyers commonly complain that sellers list something as being in much better condition than it actually was.
This allows the buyers to reject the item, and the seller will not be paid. The item will be returned to the seller to either relist or not sell.
At times sellers complain about their items, not selling. This is usually due to attempting to sell new items at full price.
As I stated before, Mercari suggests you list items for 70% less than the suggested retail price because most buyers are not looking to purchase items at full price.
Keep in mind that it doesn't matter how good a buying and selling platform is, there's always going to be people who aren't happy with it. This goes for both buyers and sellers.
Mercari Customer Service
Mercari customer support can be contacted through several different avenues. The most common way to contact customer service is through their email at contact@mercari.com. Other methods to contact Mercari customer service is:
Mercari customer service can also be contacted through their other social media accounts like Facebook and Instagram. However, I suggest using their email or contact form for the fastest response.
Mercari customer service also takes fraud seriously. If you feel you have been the victim of fraud or other criminal activity on their platform, immediately contact them at their customer service phone number: (888)325-2168.
Mercari vs. eBay – Which Is Better?
Compared to eBay, Mercari is the underdog. Let's see how the two compare.
Mercari
Mercari doesn't charge high fees. They charge a flat rate of 10% per item sold, and the app's popularity continues to grow regularly.
One great bonus is that Mercari provides the shipping labels to sellers – and at the time of this writing, eBay does not.
eBay
The online auction website eBay makes it easy, but not as easy as Mercari. However, eBay is the more popular site in terms of traffic. Although this does not necessarily mean most sellers are having more success with eBay than they are with Mercari.
In our opinion, Mercari is better. Bear in mind we're not saying eBay is a bad site. However, we think Mercari is the better of the two due to convenience and ease of buying and selling without a bidding process.
Mercari vs. PoshMark
PoshMark is relatively new, so there's a lot of buzz surrounding it. So, is it better than Mercari? Let's find out below:
Mercari
As mentioned several times, Mercari's fee is only 10% per item sold. You can sell just about anything on the app. Not only that, PoshMark does not give you shipping labels, but Mercari does. You have the option to include shipping, or you can charge the customer for shipping.
Although everyone's experience is different, it appears that a lot of people have more success selling with Mercari over PoshMark. Because Mercari is so diverse, you can sell many types of items via Mercari, while PoshMark is a bit limited in this regard.
However, PoshMark does have a cleaner interface than Mercari. If you've never sold using Mercari, then you might find things to be a bit confusing at first.
PoshMark
Mercari caters to everyone, whereas PoshMark is catered to women for the most part. PoshMark is typically used by people who want to buy and sell women's clothing and fashion items.
PoshMark is a bit more popular (compared to Mercari) among people looking to buy/sell women's fashion items.
PoshMark is simple to use. Mercari is easy to use when you get the hang, but we think PoshMark is a bit easier to navigate. However, when it comes to fees, PoshMark charges higher fees.
PoshMark charges up to 20% per item sold, and around $7.00 is added to the buyer's purchase. This is for shipping and handling.
In our opinion, Mercari is far better to use as a seller. When you sell via Mercari, you enjoy the chance to sell virtually anything, as well as access to hundreds of thousands of potential buyers. You don't pay high fees, and the company provides you with shipping labels.
These are a handful of reasons why Mercari is the better choice.
Our Overall Experience
I have bought and sold items on eBay, Offer Up, and Craigslist before, and Mercari was by far the easier experience. If you're looking for a way to clean out your closet and make a few extra bucks, you can't go wrong by using Mercari.
The marketplace is widespread, and it is gaining even more popularity each day.
This means it will continue to be a top online marketplace to make money on the side, potentially turning it into full-time income if you decide to use the site to sell items regularly.