For anyone looking to tidy up and organize their home, decluttering is always the first step to getting rid of old stuff. Typically, Craigslist is the first website when one is looking to sell outdated items online. Craigslist's main selling point is its simplicity, in that it is easy to search for something by country, state, city, or even town. However, many aspects of the site could be improved to enhance the user experience.
The good thing with Craigslist is that it is not just about clearing the junk and the old stuff in your basement. The website also allows you to put other items on sale like automobiles and property for hire. You can even post job openings on the website.
However, Craigslist may not be working out for some people. Say, for example, you have been trying numerous times to sell stuff on the website without any success. Or maybe you have encountered countless unscrupulous sellers after clicking on their fraudulent adverts. In this case, you are probably considering other alternatives to try and see if they will work for you.
In this article, we will be looking at the options you can explore if Craigslist is not the site for you.
The 23 Best Craigslist Alternatives For Buying And Selling Stuff
We have scoured the web and have found the top alternatives to Craigslist that have high ratings.
1. eBay Classifieds
In 2005, eBay, the biggest buying and selling website globally, established an international listings site in Canada and called it Kijiji. The company was later introduced to the United States in 2007, and in 2010 it was given the name eBay Classifieds as a rebranding strategy.
Although the platform was shut down in the United States in 2016, the eBay Classifieds Group stayed open and maintained its sales sites worldwide. eBay started accepting bids from investors willing to purchase eBay Classified Group in 2020.
Customers can make their Classified Ads, which are searchable ads accessed from the website's main page. From trips to funerals, there are many categories that one can choose. Compared to Craigslist, this option provides clients with countless benefits. To begin with, its sort feature is significantly better and gives a user-friendly experience.
With just a few clicks, potential buyers can sort and differentiate things within a category based on the pricing, locality, or when the post was created. Potential customers save time by scrolling directly past advertisements with meaningless stock photographs or those that do not have any pictures at all.
The ad listings come with thumbnail images of the product or the service being described. Interestingly, eBay Classifieds offers merchants some advantages that Craigslist does not.
In most sections, a Craigslist ad often expires after just a week, though it usually becomes embedded deep in the system's search results, making it irrelevant much sooner. On the other hand, ads on eBay Classifieds have a 30-day expiration date.
Even though an advert's overall exposure declines steadily over time, it continues to be displayed in more specific queries for some time after it is posted. This is because of the platform's complex search and ranking tools.
For many people, eBay is relatively easier to operate. The site also includes relevant vendor and buyer data that will help one steer clear of any potential scams from con artists. Such information consists of an individual's ratings and the comments and feedback they get after carrying out a transaction on the platform.
One of the disadvantages of the site is that you may have to part with some seller fees, which you are obliged to pay, whether or not you make a sale. Another thing is that of late, the platform has become more and more competitive as people continue to join it.
2. Facebook Marketplace
Facebook is not officially listed as a classified website. However, the site has still helped a number of its users to purchase and sell things more conveniently. It is also a much more secure site compared to Craigslist.
Facebook Marketplace and Facebook Buy and Sell Groups are the two alternatives available. A person can sell an item on Facebook by posting a status update that includes a photo of the product, a short description, and the price.
The individual can then ask some of their friends or followers to share the content with their own social media platform. Having just a few friends sharing it can exponentially increase the post's exposure.
The advantage of this platform is that because the interaction and transactions are either between friends or friends of friends, many people prefer to sell on it instead of Craigslist or other listed sites where the transactions could be between strangers.
There have been some reports of violence and theft cases that have occurred due to Craigslist deals going the wrong way. Using a social platform to trade a commodity adds an extra element of security and a reassuring peace of mind that some online listing sites cannot provide.
3. Poshmark
Poshmark is yet another online shopping platform. Trading or purchasing old clothes and shoes is a pocket-friendly method of revamping your wardrobe. The other advantage is that it is an eco-friendly activity because instead of the old items being thrown away, you either buy them or sell them, which is good for the environment.
With Poshmark, you can purchase products for your entire family, including your children and pets too. It can be described as an online retail store with dozens of quality designer products like Chanel, Nike, and Calvin Klein.
Poshmark boasts a network of over 70 million people in the United States, Canada, and Australia. As a result, the commodities sold on the platform are well over 200 million products. Its user interface is also easy to operate, and posting your goods like sports equipment for sale is a simple process of just submitting an image of the product along with the price you will charge for it.
Another thing that sellers on the platform can enjoy is the company's pre-addressed label which they can use when shipping an item to their customer for free. Unlike how you put your item for sale on Craigslist, Poshmark charges a fee for their services which is paid as a flat commission.
The cost to list is $2.95 for anything priced below $15 and 20% for anything that goes for more than that amount. The company has an end-to-end system that enables the buying and selling of a wide range of trendy and home items to be a simple process.
4. Indeed.com
Indeed.com is a full-fledged job-hunting website that lists practically every type of employment opportunity available, from part-time freelance jobs to full-time careers. It is an amazing substitute for Craigslist's job advertisements.
Additionally, you may upload your resume or credentials and request to be paired with possible companies that could recruit you. This platform also has an accompanying app that enables you to search for jobs from your laptop or mobile device.
Indeed has various tools that can assist you in your job search. They include online company evaluations, an online career guide, and a salary search engine to know how much your prospective firm remunerates its employees.
5. Match.com
Craiglist's personal advertisements phased out in 2018. but still, at that time, the absence of proper verification and monitoring made it a possibly dangerous method to find your date or future lover. As online dating continues to grow in popularity, the number of dating applications has also exploded in the recent decade, particularly in this current generation. Such apps include Bumble and the increasingly popular Tinder.
With a monthly subscription charge of $44, Match.com was named one of the top dating apps for 2021 by PC Magazine. The platform, which was launched in 1993, is more expensive than some new arrivals in the market. Nonetheless, if your preference is going for a long-term relationship instead of a quick hook-up, its good user reviews are an indication that you should give it a shot.
6. Swappa
Swappa is yet another Craigslist equivalent that centers on electronics and tech gadgets in the United States, including cellphones, tablets, and other devices. Again, you can post your electronic items without being charged a dime, but additional fees may be added to your product pricing.
Theoretically, what it means is that the buyer pays the extra charge, but that is comparable to the shipping costs. One thing with Swappa is that it strictly enforces a no-junk rule. This means they will not list a product if it does not function, is in poor condition, has a broken display, or is a stolen item. This is a good thing for you as a vendor because the buyer is already anticipating a product in good working condition.
The company also checks for Electronic Serial Numbers (ESNs) on any devices with an ESN for additional security and to prevent fraud. An ESN is a serial number permanently placed in a single device and is unique to it only.
After you post your item and a prospective client responds, Swappa collects the money through Paypal, and then you dispatch the product to the customer via mail. It also has another service called Swappa Local, which serves most of the major cities in the US.
With this, you as the seller are given the option of scheduling for a nearby client to collect your goods, and then you get paid right away by the customer.
7. AdsGlobe
AdsGlobe, as its name implies, is a worldwide platform with users from the United States, the United Kingdom, India, and many other nations. This popular website automatically recognizes your exact location. If this does not work, you can click on the 'change location' feature on the website's top page.
As one of the ideal Craigslist equivalent, AdsGlobe allows you to promote your company's goods and services in almost any sector.
Some popular categories in which people list their products include property investment, vehicles, commerce, pets, travel, and rentals for occupation. To advertise your items on this platform, you must first create an account with them.
You can also use Facebook details to log in to the service. If you sign up to use AdsGlobe with Facebook, your advert will not contain any personal information.
8. Zillow
Are you ready to start looking for a home? If so, Zillow is a great place to begin searching for some property. If you aim to purchase, lease, or even sell a home, Zillow will make the entire process as simple as possible. In addition to that, it has some useful features and tips that customers can use to select a perfect home available on the market that satisfies their expectations.
The site also ensures that you are connected with a qualified real estate agent, mortgage company, or interior designer, depending on your needs and what you are searching for.
But there is one aspect of Zillow that is mind-blowing and sets it apart from the rest. Zillow allows you to have a 3D virtual tour of the property you are interested in and get an accurate picture of what that townhouse, home, or condominium looks like. It is the most interesting feature of the site.
9. Carvana
Are you one of those people who are extremely cautious about purchasing a used vehicle? Are you apprehensive about buying a used car?
Carvana is a comprehensive store that guarantees that all of its clients receive the correct merchandise they have ordered. You can count on them to deliver the right vehicle and not just any accidental car when you purchase an automobile using the website.
They are reliable and will always get the actual vehicle you have bought and ship it to your residence. Because of that, Carvana is regarded as one of the most intriguing Craigslist-like sites for buying and selling unwanted items.
The site has another one-of-a-kind feature that every client can take advantage of. Carvana offers a 100-day warranty and a seven-day test drive with the vehicle. They will refund your money if anything does not sit well with you.
Additionally, you can use this site to trade or sell your car. First, you apply and post the vehicle you intend to sell on the platform. After the review and assessment of your request are done, a group of Carvana's representatives will come to your home, inspect your vehicle, and trade it in.
10. Etsy
Etsy was hailed as an online forum for artisans and designers when it launched its virtual business activities in 2005. Vintage and antique collectors found great deals on Etsy as well. In the last 16 years, the site has grown exponentially into a large market.
Etsy is a marketplace that has made buying and selling unique, handcrafted items such as household goods, virtual gifts, apparel, old items (items must be 20 years or older), and antiques, as well as authentic artwork and resources for your projects.
When using the Etsy.com site, vendors can advertise their items at 20 cents for each listing, with a transaction fee of 5% of the total price plus the shipping fees to be incurred.
The e-commerce platform has an easy-to-use interface with search options and check-out features, such as Etsy's Editors' Picks, which are available to customers.
There are also specific classifications such as Gifts Under $30, Black-owned Etsy businesses, and Etsy Weddings. Millions of companies and customers across the world use the platform to trade.
11. Mercari
Mercari's approach to online business is distinct from other classified websites. Mercari was established with the concept that people do not have to meet each other for the transaction or delivery of goods to happen. Instead, by permitting you to vend only items that can be shipped, this mobile platform makes it simple to sell almost anything.
At the same time, advertising your products on this site is also easy. In addition, your items get listed free of charge.
However, the only catch is that you will be required to pay a 10% commission once your goods sell. You are also required to have a printed prepaid shipping document before releasing your product for delivery. Once the customer has received the merchandise, they will rate you according to the products delivered.
If the customer's feedback is positive, the rating system will be favorable to you. However, if the review is negative, it may affect the customers' trust in your products, and they will be less likely to buy from you, especially if they are first-timers.
12. ADLANDPro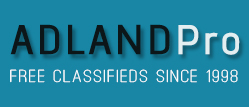 ADLANDPro is among the most established and dependable classified ad sites, having been in operation since 1998. After joining the platform and creating an account, you can sell various things on this site. Creating an account enhances the relationship between the buyer and the seller by adding an element of security.
If you are looking to buy or sell something on this listed site, you can deal in a wide range of goods and services, including rental properties, e-books, online learning, pets, jobs, cars, and other miscellaneous categories.
Furthermore, the service also lets its users file complaints in case of any abuse, which provides an avenue for reporting abuse and any suspicious activities if they may occur.
13. Offerup
Even though Offerup is a smaller site than Craigslist, it offers many product listings and is already very popular in the industry. It is a classified ad service and has received a lot of recognition for its operations, with Geekwire giving it the award of the 'App of the Year.'
Since its inception in April 2011, the company has grown in leaps and bounds and gained over 23 million users who hail it for its reliability.
You can easily purchase and sell anything, including your vehicle, home, house furnishings, outdated appliances, and even other household goods on this site. Moreover, you can trust this app to deliver an authentic item whenever you purchase something.
14. Letgo
Letgo is also an excellent substitute for Craigslist. This service lets people purchase and sell household and baby items that they no longer use, like an online garage sales site. Compared to its rival Craigslist, Letgo has a better and updated UI that is very user-friendly.
It is just a single app with a market system operated from a laptop or a computer. In 2020, another company alleged to be the most prominent mobile phone market in America purchased the Letgo platform. One thing with Letgo is that it has a customer base of over 90 million users who transact on the site.
15. Gumtree
We also have to consider those coming from the United Kingdom. While many of the current listings platforms we have looked at are based in the United States, Gumtree is primarily designed for UK vendors who want to advertise and sell their products.
16. Apartments.com
If you're searching online for an apartment to move into, this service has many features for you to explore. Whether you want to buy it outright or rent it for some time, the platform makes it easy for you to search for a property and locate one using keywords and precise locations.
The site also offers a variety of online resources for prospective tenants, including interactive virtual tours of nearby schools in 3D, residences, flats, and other helpful information. Furthermore, the service enables you to narrow down precisely what you require to get your desired property, whether you want an apartment that is comfortable for pets or a fancy apartment.
Renting out your properties is also possible on this site. The website is also suitable for discovering roommates willing to stay in that residence.
17. Trovit
Trovit describes its services as a "real estate, job, and automobile search function." You can visit their computer site or download their mobile app to access their services.
Their mode of operation is quite clever: Trovit gathers its search outcomes from different online classifieds pages, so you don't have to go to numerous sites to locate what you're searching for.
18. Locanto
Locanto can be accessed from anywhere across the United States. In addition, you can place a free advert on your laptop or desktop.
19. Oodle Marketplace
On the Oodle online platform, you can sell automobiles and list rental properties, pets, job opportunities, and services you are offering.
20. Decluttr
Decluttr is a free and simple way to sell cell phones, electronic items, DVDs, video games, and even books. While it is the easiest method to sell your possessions, they restrict what you can sell to them. However, if you have an item they agreed to buy, we suggest marketing it to them at a reasonable price.
First, you have to scan the things you have; then, an offer will be made to you for the items for sale. After scanning, print the shipping label and mail your products. You will receive your money once they have been collected and approved for payment. As easy as that.
21. Close5
Close5 was previously known as eBay Classifieds. It is a fantastic approach to sell your expensive items domestically. Close5 has one disadvantage, however: according to the terms and conditions on their website, their services are not available in every city in the United States. It is only present in a few select cities.
The cities include Washington, D.C., San Diego, Las Vegas, San Francisco Bay Area, Phoenix, LA, Boston, and New York.
22. ClassifiedAds.com
ClassifiedAds.com has an interface that looks like Craigslist but with more color. It is easy and free of charge to place an ad on ClassifiedAds.com.
23. Geebo
Geebo is a free classifieds website that launched in the year 2000. Geebo's owner was so concerned about the risk of his site being potentially used for human smuggling that it removed its online personals page even before other sites like Craigslist did.
Conclusion
This article was about the best alternative classified ads sites to Craigslist. We researched and looked for the most suitable platforms for buying and selling items on the market, as well as other online transactions. We hope that you enjoyed it and will find it helpful.
Frequently Asked Questions
What is the most popular craigslist alternative?
You may not know it, but Facebook Marketplace is the most popular Craigslist alternative. It has one significant advantage over Craigslist-similar sites. Because Facebook is one of the most popular websites on the internet, there's a good chance that plenty of people will see your content, including people you have already interacted with and who may be interested. The other advantage is that it is free.
What are sites similar to craigslist for pets?
What are websites like craigslist for jobs?
What is a good alternative to Craigslist for housing rentals?
The top house rental websites let you search for various things, depending on several factors. For instance, you can be looking for a property in a specific ZIP code or only apartments with a minimum of two bedrooms. The multiple listing service, or MLS, is undoubtedly the best place to look for a rental property. Other sites like Zillow, Realtor.com, and Rent.com are promising avenues to look for homes for rent.
What are some sites like Craigslist to sell cars?
Online car buying is becoming extremely popular, and the internet has simplified the process of finding the ideal client for your vehicle or a seller of the car you want. Cars.com is one of the leading websites in trading used cars and is a popular website for online car shoppers. eBay Classifieds is also another excellent car listing website, while Facebook Marketplace is booming because of the broad exposure and the ease of finding clients.
What are other alternative websites just as successful as Craigslist Personals and Backpage?
Several Craigslist Personals alternative sites are popping up, claiming to be the best Craigslist Personals substitute. If you're looking for a new Craigslist alternative website in 2021, FreeAdsTime is a must-visit. It has done an outstanding job of combining various classes and also covers a large number of cities. It does the same thing as Craigslist does, plus a lot more. However, compared to Craigslist, it provides more countries and categories to look into for personal listings.
Doublelist and Classified Ads also provide some fantastic services similar to Craigslist Personals. You should also check out Oodle and Locanto as they are some other quality classified sites that can be suitable alternatives to Craigslist Personals.
What is the best alternative to Craigslist casual encounters now that it is gone?
Many people used Craigslist Personals to find hook-ups for casual encounters of any kind. However, it was deactivated in 2018. Craigslist shut down the individual listings site to assist in the fight against online sex trafficking, which, regrettably, is prevalent on almost every hook-up platform. Adult Friend Finder is one of the world's largest casual hook-up sites and an excellent alternative to the Craigslist version.
As the name implies, this is a hook-up service for adults looking for casual dating. You may engage in online chatting with other daily, weekly, or monthly users, hold private conversations, talk about your favorite things, go on casual dates, start an affair, meet friends, and so much more with Adult Friend Finder.