I recently stumbled across a great way to start investing with free stocks without having to spend a great deal of my own money. I have used the traditional index fund retirement strategy but recently started trading individual stocks for fun. This list will show you all the places that will give you free stocks just for signing up!
How To Get Free Stocks
Nowadays, there are several ways in which you can indulge in micro-investing without spending a penny. There are multiple portfolios available, and you can take advantage of free stock offers to give your platform a boost. Besides, if you are a novice in the stock market, risking your hard-earned cash in the initial stages may frustrate you. Therefore, it would be best to invest in significantly low-risk options to learn about stocks and the best opportunities.
Do you want to know how to get free stocks and the legitimate applications you can use to start your investment journey? It may sound too good to be true, but this article will take you through various platforms to help you out.
Giving away free stocks has been a great way for legitimate investment companies to encourage novice investors to start trading. For most companies, if you create a new account with them and make an initial small deposit, you are eligible for their free stock offer.
#1. Robinhood
Robinhood is one of the most popular trading platforms where you can invest in ETFs, cryptocurrencies, and stocks. The company has a user-friendly application and low-cost structure. If you are a new customer on Robinhood, you get free shares just for signing up with a new account!
Note that you must meet the following conditions;
Be a new account holder without having a previous one registered under your credentials.
You need to sign up via a new link that has an up to date promotion.
You may have an existing account, but it has no activities, yet thus, you may still qualify.
How To Get Free Stock On Robinhood
First, sign up by clicking on the top-right hand corner or the middle button of your screen. Next, tap on the pop-up that indicates 'Claim Your Free Stock Now.' You then get a random stock in your account, but if you are lucky enough, you may get a blue-chip one like Facebook or Microsoft.
When I first signed up, I was given one share of VBI Vaccines that was valued at $3.39 when I received it.
You then need to enter your credentials on the next screen, such as your name, email address, home address, phone number, password, investment experience, social security number, and more. In case you are an expert in this field, you can choose the trading options you prefer. For instance, if you like cryptos, you can trade in Litecoin, Digecoin, Ethereum, and Bitcoin – for free.
Your account is then linked to your bank to enable the effortless transfer of funds. Registration takes a few minutes, and you should get a bonus in a week.
Robinhood Referral Program
You can still get more free stocks by referring your friends to the company. On the app, tap on 'Invite Friends, Get Free Stock' referral link to invite your contacts who may be interested. Immediately they sign up on their brokerage account and get approval on their account; you will have additional stock.
You don't have to worry about extra costs since the app has no monthly fees or a dollar minimum balance requirement. In case you need assistance on how to buy stock, the app's help center has articles and tutorials. Further, as a brokerage company regulation is critical; thus, both the Security and Exchange Commission (SEC) and FINRA regulate its operations.
Robinhood is so easy to trade stock, the Wall Street Journal recently wrote an article asking the question, "Does Robinhood make it too easy to trade?"
To receive your first free stock, sign up for Robinhood here!
#2. Webull
Webull is a brokerage company that deals in ETFs, stocks, and options. Additionally, the trading app offers you a commission-free account with no fees or minimum balance requirements. They offer free stock promotions in two techniques.
How To Get The Initial Free Stock
As a new customer, you need to sign up via a link with the promotion and sign up for the free stock reward. (click here for the promotional link)
Next, download the Webull application from your Android or IOS device.
On the app's menu, click on the 'My Free Stock' page and the 'Get It Now Button' to initiate your registration and open a brokerage account.
You then receive your first free stock valued at about $2.50 to $250.
You also have a chance of getting a second free stock by depositing $100 or more in 30 days, valued at $12 to $1,400.
To claim your free deposits, tap on 'My Free Stock.'
Within five trading days after your claim, your account gets credited with the free rewards you can choose to sell. You can potentially get two free stock worth a combined value ranging from $14.50 to $1,650. Stockpile fluctuations lead to the varying amounts that you could get.
Webull Referral Program
You can get more free stock after you fund your account by referring your friends using a referral link. Your referral will get a free stock at the sign-up stage worth between $2.50 and $250. Once they deposit $100 or more within 30 days, they get another free share worth between $12 and $1,400. In return, you will receive two free stocks.
In case you invite three users on the platform and all deposit $100, you get an additional three stocks. Therefore, the more people you refer, the higher your odds of receiving more free shares.
To refer your friends on Webull, go to the menu and click on 'my free stock' then hit 'refer my friends' button. You will get a link to send to new users who can sign up to use the platform.
Sign up for Webull here to get your free stocks!
#3. M1 Finance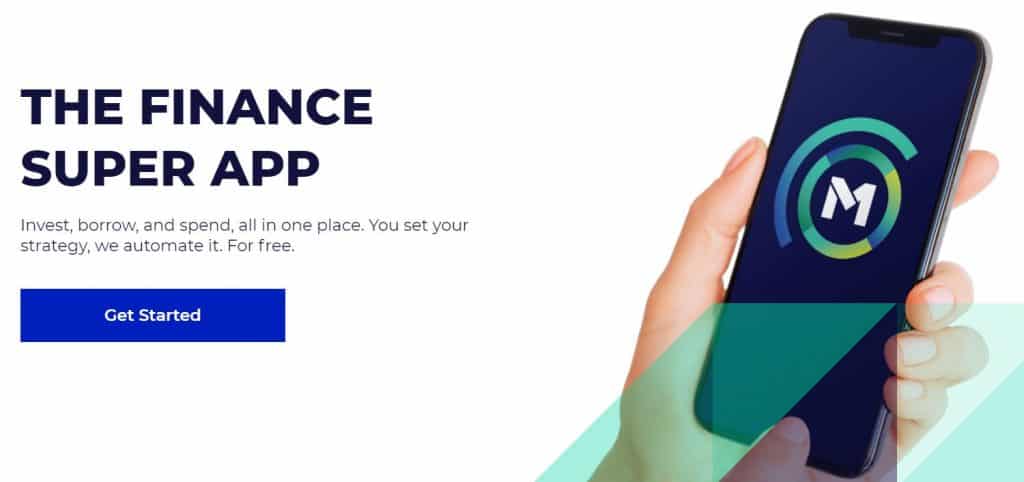 M1 Finance is a straightforward and free-to-use brokerage platform that you can use to trade in stocks, ETFs, and Bonds. It comes with an easy-to-use interface with lots of innovative features such as an intelligent re-balancing tool to make it seamless while trading. Additionally, it's commission-free, and you won't have to pay for any markups.
The platform is 100% secure since it's a member of the Securities Investor Protection Corporation (SIPC). Additionally, to ensure the security of your account, MI Finance has two-factor authentication and has military-grade 4096-bit encryption.
As a new user on the platform, you get a $10 bonus credit by following these steps;
Sign up into your free account using an M1 Finance link. (click here to sign up at M1 Finance)
Fund your account with a minimum of $100 for a taxable account and $500 for an IRA within 90 days. You also need to maintain your initial qualification funding for the same period.
A bonus of $10 will reflect your account under the 'Promotions' tab once you meet all conditions.
Once you have a free account, you can invest in 'pies' or an investment portfolio based on your goals, tolerance, among other factors.
M1 Finance Referal Program
The site features a refer-a-friend program that gives you bonus credits. Once you have an account, your friend can receive a $10 bonus after opening an account using your link. In return, you also receive a similar amount for investing. Moreover, you can earn an extra $1000 when you refer up to ten new users who fund all their accounts.
How To Refer A New MI Finance User
On the app, tap on 'Refer & Earn.' Please note that the feature will only be available when your account is fully funded.
Next, you need to sign up for the referral program.
Choose your preferred payment account where you will receive your referral program earnings.
Share your specific referral link with your friends and other associates.
Once your referrals sign up and fund their accounts, you get a $10 worth of bonus payment within 14 days.
Note that the M1 Finance referral program has various terms and conditions as follows;
The offer is valid to IRA and new brokerage accounts on the platform.
It's non-transferable and not valid with other offers.
Your payment account should be either a joint taxable or an individual.
Both you and the referral should have an open brokerage account.
To get the bonus, the new user must deposit $500 for IRAs and $100 for taxable accounts within 90 days. Also, there should not be a withdraw in the same period.
The offer is restricted to US residents only.
Click here to get your free stocks with M1 Finance
#4. Nvstr
Nvstr is a brokerage platform that aims at helping you make smart and straightforward trade investments. The site empowers you with relevant insights, information, and a community that help you make wise decisions. Therefore, you can follow several experts' ideas and try to copy their habits to become like them.
Whether you are a beginner or veteran, the app has the right technology to assist you. It's also easy to use and understand the platform. Moreover, it features an optimizer to help you decide the amount of money to invest in specific stocks.
As a new member, you can get up to $1,000 to invest, although the selection is random, you are assured of at least $10. Here are the steps you need to follow to get an amount in that range;
Find an Nvstr $1,000 referral link to sign up and get approval for a free account.
You then receive free cash for investing in your account, ranging from $10 to $1000.
Ensure that you place a trade within one year to keep the bonus funds. It also restricts the withdraw of the reward for the same period. Also, note that the offer is only valid for live trading brokerage accounts.
Nvstr Referral Program
In the referral program, you and the referrals can get up to $1,000 free cash. To receive the amount, you need to refer a new member who then opens a free live trading account. There are no membership or monthly fees or any minimum deposit amount.
Note that the program is permitted to natural US residents, aged 18 and above. You will also incur a $4.50 charge per trade since it's not commission-free. However, there is a simulated feature that lets you use their optimization and collaboration tools without risking real money.
#5. Stockpile
Stockpile is an online brokerage company with an easy-to-use application that helps people invest in stocks. It doesn't require a lot of finances to start trading, provided you have a social security number and a US address. Additionally, there are no account fees or minimum account balances required. You can purchase fractional shares; thus, you can go for a set dollar amount less than the cost of a share. You buy the stocks by linking your bank account using either a debit or credit card.
Stockpile also offers physical and electronic gift cards from as low as $1 to $1,000 for the latter and $25 for the former. Therefore you can purchase one for yourself or your loved ones.
How To Get Your Free Stock
You need to sign up for a stockpile account using a referral link. You then receive a $5 worth of free stock for investing. Additionally, you get a chance to have your favorite stocks worth the same amount in various stores such as Amazon, Prada, Tesla, Snap, Disney, Victoria's Secret, Apple, and more. Alternatively, you can buy others in your preferred travel company like Hilton, Expedia, Marriott, Hilton, American Airlines, Southwest Airlines, and more.
The stocks get deposited in your new account, and you can redeem the $5 free bonus without any additional purchase requirements.
#6. Bumped
Bumped is a modern application with a new twist to let you earn stocks every time you shop at your favorite e-commerce site, retailer, or restaurant. Therefore, as a customer, you get a share of the company by being a regular client. The application brings in disruption from the usual customer loyalty program that implements different forms of rewards such as discounts, free stuff, cashback, loyalty cards, and more.
You can earn free stocks using bumped through the following process;
Join the Waitlist
Before you officially sign up for a Bumped account, you need to join the waitlist since the application is still on public beta. You will get a notification when to download the app in your device then sign up for your brokerage account. Note that you need to be a US citizen or have permanent residency and be 18 years of age and above. You will also need to give your name, address, photo verification, and social security number.
Link Cards
After signing up, the app prompts you to link a credit or debit card per your preference. It helps in tracking your spending patterns in available brands. Here is a step to step guide on how to do it;
• On the menu, select 'Linked Cards.'
• Select 'Link a New Account.'
• Sign in to your preferred bank and choose the card you wish to use.
• You can also decide to link to many cards, and in case you are stuck, Bumped has a guide to ease the process.
Choose Brands
After creating a Bumped account, the next crucial step is to choose from 16 different categories that you will get your free stocks. In each section, you pick one brand only. Some of the current types include;
• Rideshare – Lyft, uber
• Pizza – Pizza hut, Papa John's, Dominos,
• Music streaming – SiriusXM, Spotify
• Video Streaming – Sling Tv, Netflix
• Superstores – Target, Wallmart
• Family Dining – Olive Garden, Red Robin, Chilli's, Applebee's
• Coffee – Dunkin' Donuts, Starbucks
Bumped ensures that they give you diverse categories; thus, you can't miss out on some areas even if you don't choose from all of them. Therefore, you can accumulate as much stock as possible, making the platform one of the best rewards sites. Besides, as it continues to grow, you can expect more brands to increase your chances of extra rewards.
Shop And Earn Stock
When you buy for any of the selected brands in your account, you get stock rewards. It takes about two to five working days to show up. A majority of the categories pay a 1% to 2% cashback; thus, if you spend $1,000 at Target, you earn $1 in free Target stock. Moreover, others pay up to 5%, and you can confirm your account of the current rates.
You receive the percentage of stock in fractional shares, no matter the price fluctuations. Note that most of the brands opt to pay in EFTs, but it's an excellent way to diversify your portfolio.
Sell Stocks And Cashout
If you want your fractional shares to increase in value over a duration of time, you can accumulate stocks in your account. However, if you choose to sell, it's much more seamless using bumped by following these steps;
• Go to the menu and select 'Portfolio.'
• Select the ETF or stock you would like to sell
• Tap on 'Sell' to confirm the sale
A few days later, a deposit of the stock sale will reflect on your 'cash balance' in the Bumped app. There are no charges incurred while making a transfer of your free money to an account of your choice.
#7. iConsumer
iConsumer is a unique platform that offers you an opportunity to invest in stocks as well as earn cashback. As a shareholder, you get a reward every time you shop at the participating online retailers. Additionally, it helps you save money through coupons and deals.
If you want to earn stocks and cashback, you need to join iConsumer. You can install the app on your iOS or Android device or use your desktop by getting directly into the site then sign up. Alternatively, if you use a referral link, you get a sign-up bonus immediately.
Once you make purchases from the participating stores, you get an iConsumer report within a week. You can get your cashback either via bitcoin or check after earning at least $25. Note that you need to be a US citizen and provide your social security number for a stock transfer and issuance.
How To Get Free Stocks With iConsumer
When you spend the first $25 on the platform, you are rewarded with up to $500 free iConsumer stock bonus shares. As a beginner, it's an easy way to start investing since you are not taking risks. Further, you continually earn every time you purchase something from a partner brand.
iConsumer Referal Program
If you want to earn more shares, you can invite your friends and family to join the platform. For every referral that uses the platform for at least six months, you earn $100 regardless of the purchases they made. Therefore, you stand a chance of getting $10 and 250 shares. The more people you invite to use iConsumer, the higher your chances of more rewards. You can send them your link or referral code using various sites like Facebook, LinkedIn, or Twitter.
#8. Stash Invest
Stash is an investment application in stocks and exchange-traded funds that help beginners get started with limited resources. Once you sign up, you can build your portfolio based on your risk tolerance and goals. There is no minimum balance required, and you can also purchase portions of a company's stocks since the platforms allow fractional investing.
Further, if you sign up via a referral link on orange, you receive $5 within two working days to start your investment. It will cost you $1 per month for an account and access to the platform's online bank and debit card, which comes with a rewards program. It's an excellent option for beginners, but you can also opt for growth or stash+.
Click here to get your free stocks on Stash
Stash Invest Reward Program
Stash Invest awards you with fractional shares as you make purchases. Moreover, you get a 0.125% reward for subscribing to the $1/month or $3/month account options. If you decide to pick the $9 per month plan, you get double the amount. Stash also offers monthly bonuses on the amounts spent in affiliated brands. If you purchase from a firm that is not publicly traded, your reward gets invested in a diversified ETF.
#9. Acorns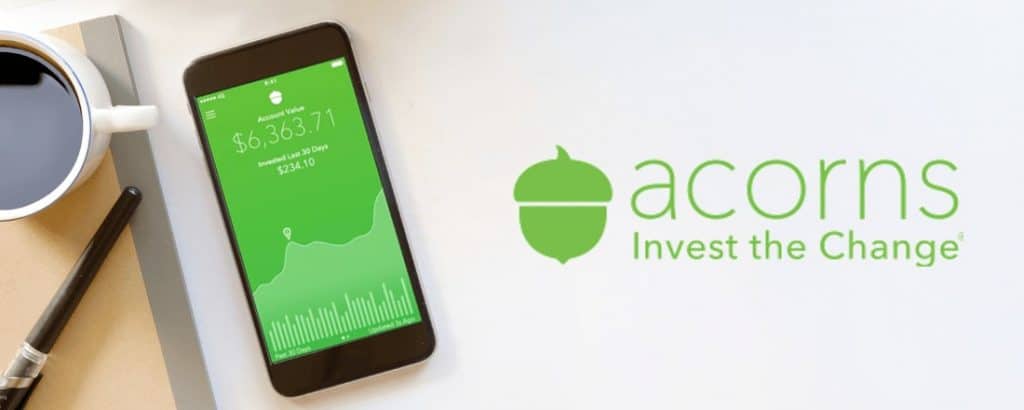 Acorns is a micro-investing as well as micro-savings application. Once you sync the app with your spending accounts, it will shift a small amount into your savings by reading your credit card's spending habits. It uses a process called roundups as it pulls the difference from the checking account and invests in the Acorns account that you set up.
The roundups process rounds each purchase up to the nearest dollar to invest your spare change effortlessly.
It has an easy-to-use application and has become a popular option for millennials. You only need a fee of $1 per month for an account that is less than $5,000 and a fee of 0.25 for the larger ones.
Using Credit Cards With Reward Points
Signing up for automatic deposits and round-ups is the best way of maximizing your Acorns application. However, it would be wise to squeeze a little more out of your linking cards to relieve yourself out of unnecessary consumer debt. Eventually, credit cards that have high rewards can boost your gains.
For instance, if you purchase an item worth $2.95 from Amazon, the app will round up five cents and get them in your account. If you have a roundup booster, it will help you save more since it will get the amount to around $5.
You can also get free stocks after you sign up from a referral link. The platform will then deposit a free $5 in your account to start your investment.
Click here to get your free stocks from Acorns!
#10. Public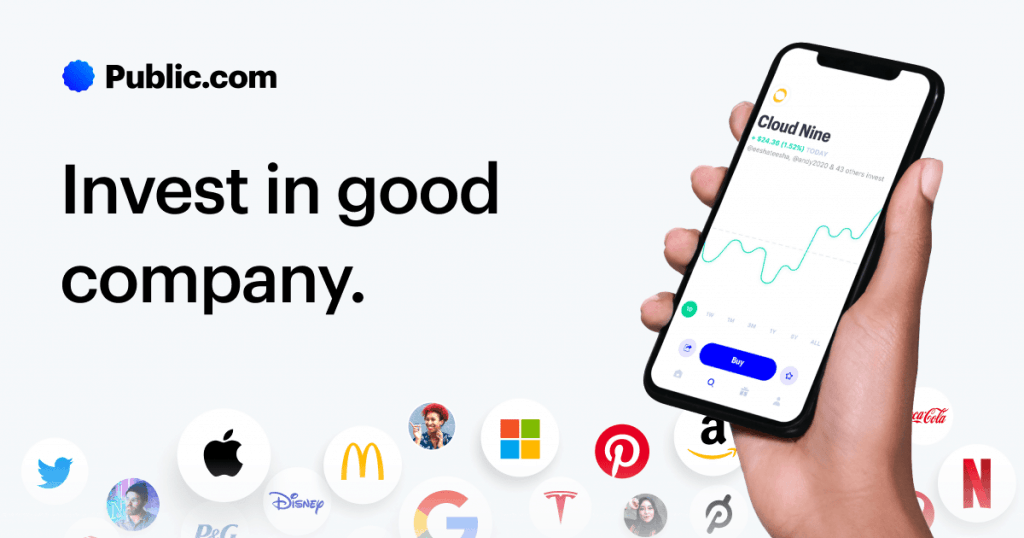 Public is a trading application that allows you to buy and sell ETFs and stocks for free with no account minimums required. With the tools on the app, you can own shares in a company with any amount.
You can download the app via your android or iOS device. Further, you can connect your social circles to learn the techniques your friends use to invest. Additionally, the platform has a free community that you can follow to know the trending stocks and start investing from as low as $1.
Public can be recommended to investors such as;
• People without so much money but who want to invest.
• Someone who wants to save on commissions.
• Beginners who don't have enough knowledge about investing and want some inspiration and guidance.
• Investors who enjoy incorporating a social element to stock trading.
Steps On How To Get A Free Slice Of Stock On The Public Platform
Go to the platform's app $10 free stock link and enter your phone number, which prompts a text.
Download the application through the text message and sign up to get a free account.
After creating your account, you will receive your preferred choice of a free $10 slice of stock.
The stock has a value of $10, and you can pick from several stocks such as Google, Amazon, and more.
Refer A Friend Program On Public
The platforms also feature a generous referral program to award both you and your friends for using the application. When you refer a new user to sign up via your link and create an account, you both get a free slice of stock in your accounts that are worth from $1 to $50.
Note that you cannot withdraw the free stock value for up to 90 days from the day you received it. Further, the highest amount of free stock you can earn gets restricted to $500.
#11. Firstrade
Lesser known Firstrade is an online brokerage firm that specializes in investment products through state of the art tools. Their focus is on investing strategies and practices with a focus on building wealth.
With an impressive selection of 11,000+ investments, Firstrade focuses on what they do best – offer high-quality investments without the flashy lights and graphics.
In addition to basic company shares, Firstrade makes several investment options available to investors to include:
Index Funds
Stocks
Bonds
Target Date Funds
Mutual Funds
How To Get Free Stocks On Firstrade
Firstrade provides a cash bonus to new investors. Depending on the amount you initially invest, you will be given a corresponding bonus you can use towards the purchase of additional stocks at no cost to you.
This is the bonus scale for Firstrade new accounts:
$25 bonus for an initial investment of $5,000 to $9,999
$50 added bonus for an initial investment of $10,000 to $24,999
$100 bonus for an initial investment of $25,000 to $49,999
$200 added bonus for an initial investment of $50,000 to $99,999
$300 bonus for an initial investment of $100,000 to $249,999
$600 added bonus for an initial investment of $250,000 or more
Firstrade Referral Program
When you sign up for a Firstrade account, you will receive a referral bonus link. When someone signs up with your link, both you and your referral will receive a free stock.
#12. E-Trade
A familiar face in the online trading industry, E-Trade has continued to deliver a solid platform for investors to invest in the stock market.
From beginners to advanced investors, E-Trade remains competitive in the investing world due to its constantly evolving platform that focuses on education and low fee trading.
How To Get Free Stocks On E-Trade
In keeping up with industry norms, E-Trade realizes the need to offer free stocks and bonuses to new investors. E-Trade has a similar bonus structure to Firstrade.
The bonus structure of E-Trade is:
$25 signup bonus with an initial investment of $5,000 to $9,999
$50 bonus with an initial investment of $10,000 to $24,999
$200 signup bonus with an initial investment of $25,000 to $99,999
$300 bonus with an initial investment of $100,000 to $249,999
$600 signup bonus with an initial investment of $250,000 to $499,999
$1,200 bonus with an initial investment of $500,000 to $999,999
$2,500 bonus with an initial investment of $1,000,000 or more
#13. Dough
Dough is a relatively new company that is trying to get into the trading space. Dough, similarly to other popular platforms, focuses on commission-free trading.
How To Get Free Stocks On Dough
First-time users on Dough are eligible for a free share when they open a new account.
The free share is valued at $2 to $200 depending on the market value at the time of the award.
Bottom Line
From the above guide, it's evident that various companies and applications are giving free stock or bonuses to earn your personal finance business. You can use multiple effortless ways to benefit from the initiative as each platform tries to convince people to use their services.
In most of the apps, you get a free reward bonus immediately you sign up. Therefore, if you have always wished to get into the stock market, you can choose one of the above trading platforms depending on your preference. Most of them have an easy-to-navigate interface and extra learning materials to favor beginners. Additionally, you don't need to have a lump sum to jump-start your portfolio.
If you have wanted to start trading stocks without ruining your retirement, these platforms are the best place to get your feet wet without going broke in the process.