My kids love games. In fact, they are borderline addicted to electronic media. My struggle as a parent is creating a balance with their online time while also focusing on education. Recently I stumbled on a site that hosts free online math games for kids – that my kids actually like to play!
Before I found this site, I experimented with other math programs, but most completely free interactive math games have a ton of ads and popups that try to sell my kids' toys and other junk.
Kids online are susceptible to poor advertising practices, and I also want to keep my children safe without being manipulated by advertising.
Math And Personal Finance Are Connected
Full disclosure – I was not good at math when I was a kid. I didn't like it, didn't understand it, and struggled with it most of my childhood. I was also addicted to video games, so the idea of having to figure out a math problem with paper and a pencil was not at all stimulating to me.
As you know, personal finance and math are intimately connected. This led to me making terrible financial decisions early on in my adult life that took me quite a while to fix.
Out of necessity, I forced myself to learn more about numbers and financial equations so I could improve my personal finance skills. Had I learned these skills early on, my financial path may have had a better outlook from the beginning.
How Do I Make My Child Love Math?
The simple answer is math needs to be stimulating, entertaining, and challenging, while still being easy to understand for our children. I know, easier said than done. I think common core standards attempted to do this, but as a parent, I struggle to understand common core myself.
As parents, we all want our kids set up for success. We want them to learn from our mistakes and avoid the struggles that we went through as children – and now as adults.
Because of this, I have been teaching personal finance principles to my children from the time they learned to walk. However, not all of my children love math. My kids practice math skills when I make them, but they certainly don't get excited about learning math.
How To Teach Math At Home
Since we were forced to home school due to COVID-19, I have been searching for an online fun math game that will not only entertain but teach my kids different personal finance principles.
I found many different challenging math programs online, but most of them required some type of subscription, email verification, or download that I didn't want to do. I tried to find an easy setup that my kids could access and start playing games and practice math skills at the same time.
Enter: Calculators.org. This site provides many different types of educational games that can be used for homeschool teaching and helping kids learn math – without subscriptions or downloads!
How I Made Math Class More Fun
After finding the site, I decided that just because I liked the challenging math games, that didn't mean my kids would like them. I called my youngest, who is seven years old and in 1st grade, and asked him to look through the games and pick his favorite.
The only issue he had was there was such a massive selection of challenging math games. I should have initially narrowed it down for him a bit. After browsing, he came across a game he couldn't pass up.
Zombie Number
My boys love anything related to Minecraft, zombies, and other similar games, so I assumed this would be one of his favorites. This math game involves solving math problems before the zombies get to the hero.
It has for main math focus areas which include:
Addition
Subtraction
Multiplication
Divison
Math Boy
Math Boy was the second game my youngest chose. Again, this one focuses on addition, subtraction, multiplication, and division. This is also a timed math game that involves repetition and memorization to set high scores.
In this game, if you successfully answer the question before the monster comes, the hero can destroy him with a sword. If you fail, the monster wins. While my youngest was having fun, the older two, ages nine and 10, quickly came over and wanted to play as well.
I understand everyone has their unique style of parenting, so the whole zombie and monster thing may be a turnoff for some parents. Don't worry; there are many other types of free math games available to your kids that will meet any parenting style.
Fun Math Games In All Categories
The free math games are broken up into several sections based on the math types available during the game. To make learning fun, they have focused on creating math problems that focus on problem-solving.
Here is a list of the categories and math games associated with each.
Addition, Subtraction, Multiplication & Division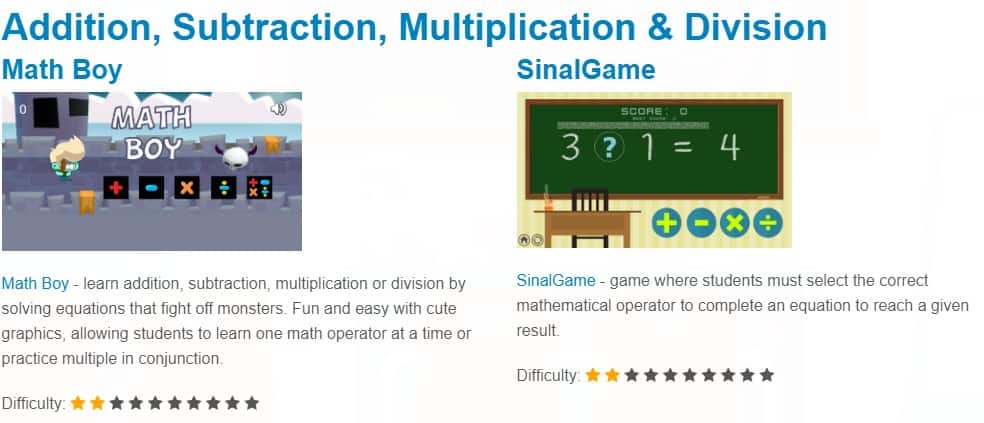 Math Boy
SinalGame
True Number Operator
Crazy Math Game
Quick Math Practice
Maths Test
Math Speed
Educational Math 4 Kids
Kids Math Quiz
Solve Math
Math For Kids Game
Multiple Choice Math Quiz
Arithmetic Game
Math Game For Kids
The Operator
Tap The Operator
Zombie Number
Mathematic
Addition
Feed Math
Math Plus Puzzle
Math Nerd
Math Pop
Math Balls
Woopy
Grocery Cashier
Count Fingers
Numerical Basics
The Highest
Number In Order
Math For Kids
Complete The Sequence
Mathball Roll
Guess The Number
Math Up Down
Addition And Subtraction
Dux Math
One Plus Two
Quick Math
Number Maze
Multiplication Games
Logic-Based Math Games
Get Twelve
Math Plus Pro
CalcuDoku
Sumagi
Master Sudoku
Ultimate Sudoku
Cuteness Edition
Stone Merge
Connect Merge
Tendo
Burn Matches
Reorder
Puzzles
Jigsaw Delux Puzzle
Cartoon Puzzle
Kids Puzzle
Kids Puzzle Adventures
Puzzles For Kids
Animal Matching Memory Game
Find The Differences
Human Anatomy
Other Fun Educational Categories
Calculators.org also developed several other types of fun online learning games parents can use to make homeschooling more fun.
Learn Colors And Coloring
Quiz Games For Kids
Physics Games
Games For Preschoolers
Typing Games
Word Search Games
Crosswords
Word Puzzles
Getting Started: Free Math Games For Kids
To get started playing these online games without any subscription or annoying ads, head over to Calculators.org. Get your kids learning math without the stress of forcing lesson plans down their throats. An exciting game that not only teaches but keeps kids engaged is hard to come by.
After your kids have tried the games, comment below and let me know what games your little ones liked the most!. Also, if you know of other free resources to help kids learn math, comment below, I would love to give them a try.