Qube Money
$0 - $15 per month
Pros
Excellent Alternative To Cash Envelopes
Mobile Wallet
Budget Automation
Partner & Kid Accounts/Cards
Payday 2 Days Early
Cons
Requires Cell Data / Reception
Must Pre-Approve Purchases
Some Features Still "Coming Soon"
Qube Money is turning the traditional cash envelope system on its head by creating digital cash envelopes. As financial technology (fintech) continues to move forward in the app space, Qube Money is a smart banking solution by moving "cash is king" to the digital world.
Changing Our View Of Money
Since the beginning of the COVID-19 pandemic, retailers have been reluctant to accept cash for services or products. I have seen numerous signs state, "credit or debit only" as a form of payment.
For those of us who have struggled with debt, we have grown to love our cash envelope budgeting system which keeps us from overspending. In fact, I wrote a detailed post about how to budget with a cash envelope wallet to keep you on track with your spending.
I have speculated for the past year or so for the need for a cash envelope alternative. However, the only alternatives have been credit cards and debit cards that are easy to blow past your budget.
Qube Money
I first learned about Qube Money from Fincon 2018. Qube Money was a startup company in the beginning stages but I absolutely loved their business concept. In the most simplistic terms, Qube Money offers a digital version of the cash envelope budgeting method by utilizing a debit card attached to their app. Their idea is a modern solution to spending digital cash while staying on budget.
Before I get further into why I love Qube Money, let's learn more about the company and its founders.
Qube Money Founders
Ryan Clark and Shane Walker founded Qube Money in 2016 during their time as financial planners. Ryan and Shane helped their clients with their finances and routinely suggested the cash envelope system.
However, if you have ever used the cash envelope system, you know how archaic and inconvenient it can be. My wife and I used the age old method of cash envelopes for about a year, and while it was extremely effective to change our spending habits, the process of frequently going to the ATM was burdensome.
How do you make online purchases with a cash envelope system? You get my point.
This is where Ryan and Shane came up with their digital cash envelope system. Users are able to integrate a debit card with real-time purchases by loading money from certain categories directly onto the card.
The First Launch: ProActive Budget
In 2017, the dynamic founders launched ProActive Budget which utilized the concepts of paying for items with digital cash envelopes with digital banking. The launch was met with huge success and over 10,000 people started using the app.
Due to the increasing popularity and workload, the company ProActive partnered with to process payments was unable to meet demands. Because ProActive was ready but the other company couldn't deliver the promised integrations, Ryan and Shane were forced to close down the mobile banking app.
As with most startup companies, this first launch involved a lot of trial and error. Armed with this information and the roadmap for success, Ryan and Shane started over with the Qube Money app.
How Qube Money Works
We have established that the Qube Money app uses a digital cash envelope approach, but what exactly does that mean?
The company's approach to cashless transactions involves the same techniques of separating money into categories but makes it easier with an app and debit card. Each budget category on the app allows the user to give each dollar a purpose.
The debit card, by default, carries a $0 ballance. Before each purchase, the user selects on the app from which category they are making a purchase and how much is currently in the account. With the click of a button, the money is instantly transferred to the debit card for the transaction.
After the purchase, the remaining money is transferred back to the account and the debit card resets to $0.
The safety of a continual $0 balance makes unauthorized transactions due to a lost card or stolen number virtually impossible.
Qube Money Partner Accounts
With the Qube Money platform, several people can be connected to the same account. For instance, a married couple can each have their unique debit card integrated into the app. When one spends money, the balance immediately shows the change and the other users receive an updated balance.
This partner system keeps couples on track financially while increasing communication and transparency in a relationship
If one or both of you have a spending problem, there is an option to require both users to approve a purchase before it is allowed. While not ideal for all couples, this may be the perfect solution for spending issues.

Qube Money makes sticking to a budget easy. Users have stated spending $440 less per month just by using it.
Qube Kids Accounts
Qube understands the need for children to learn how to budget money and manage their finances from an early age. Because of this, they have also integrated the cashless system to provide kids with debit cards as well.
By teaching your kids the importance of working for money, you can pay them for the chores they do around the house and load the money onto their debit cards when they want to make a purchase.
If your teens have phones, they can also check their balances with the different parent permissions you can set up. Parenting permissions allow parents to transfer money to their category and monitor or allow spending activity.
How Much Does Qube Money Cost?
The moment you all have been waiting for. Qube seems almost too good to be true which is why most of us have been wondering how much this service is going to cost us.
To my surprise, Qube is much cheaper than I thought and they even have lifetime memberships! Check out the monthly and lifetime plans below.
The Basic Plan
You read that right; the basic plan is FREE!
What's Included In The Basic Plan
Individual Qube Account
10 Qubes
Mobile Wallet
Peer-To-Peer Transfers
Bill Pay
Payday 2 Days Early
The basic plan is enough to get you started with Qube, but the company is confident you won't be able to resist the additional features on their paid plans.
The basic plan is definitely a good starting point if you're on the fence about leaving your old cash envelope method behind!
The Premium Plan
The Qube premium plan is only $8 a month – or slightly more than a cup of coffee, depending on how fancy your coffee is.
What's Included In The Premium Plan
All Features In The Basic Plan
Unlimited Qubes
Qube Groups
Budget Automation
QubeShare
Qube Notes
Subscription Controls
Companion Cards For Couples
Partner Permissions
Partner Notifications
For couples just starting out with digital cash envelopes, the Premium Plan is the perfect option. The Premium Plan is also appropriate for people who want more control over their budget and advanced features.
The Qube Family Plan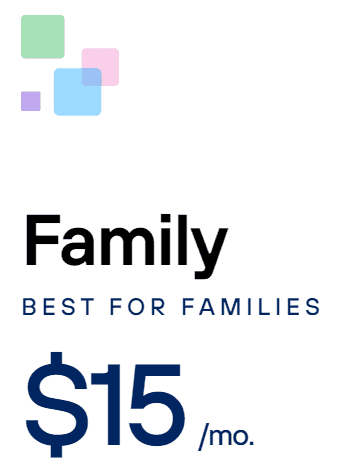 For only $15 a month, the Family Plan incorporates all the features of the Basic and Premium Plan but includes additional services for families.
What's Included In The Family Plan
All Features From The Premium And Basic Plan
10 Kids Accounts
Adult Debit Cards
Teen Debit Cards
Kid Debit Cards
Parent View
Parental Controls
In-App Money Requests
Chore Tracking
The Family Plan is definitely a great option to get the entire family on board with a budget and to build good financial habits in children. With the subscription service being month to month, $15 is an easy amount to budget in or cancel if it doesn't work out.
The Platinum Plan
The Platinum Plan is currently coming soon, but will open up at $25 a month. This plan adds several additional benefits planned for power users.
What Will Be Included In The Platinum Plan
All The Previous Plan Features
A Member Rewards Program
Corporate Partner Benefits
Qube Master's Training
Qube Partner Metal Card
Qube Money Lifetime Plans
I have followed the Lifetime Plans since Qube first came out and they have slowly increased since the initial launch. If these lifetime plans seem reasonable to you, I would purchase one sooner than later to save money.
The Premium Lifetime Plan
For a one time payment of $216, you are guaranteed to work with Qube Money for as long as you and the company are in business. With a solid roadmap, I'm confident Qube Money is on the cutting edge of the digital envelope scene and will continue to improve and grow.
What if you spend the money and don't like it? Don't worry, Qube Money also offers a 100% money-back guarantee! They are that confident in their product.
What's Included In The Premium Lifetime Plan
All Features In The Basic Plan
Unlimited Qubes
Qube Groups
Budget Automation
QubeShare
Qube Notes
Subscription Controls
Partner Debit Cards
Partner Permissions
Shared Account
Because I'm a money nerd, I wanted to know how long it would take me to break even with a lifetime plan. The Premium Lifetime Plan is comparable to the Premium Monthly Plan.
By dividing the lifetime plan amount of $216 by the monthly plan of $8, it would take exactly 27 months to reach the break-even point. So if you plan to use the digital envelope system for more than two years, it makes sense to buy the lifetime plan.
The Family Lifetime Plan
The Family Lifetime Plan is one payment of $324. This plan is comparable to the monthly Family Plan and includes several of the same features.
What's Included In The Lifetime Family Plan
Everything Included In The Premium Account
10 Kid Accounts
Adult Qube Card
Teen Cards
Kid Cards
Parental View
Parental Permissions
In-App Money Requests
Chore Tracking
If you plan to use Qube Money for an extended period of time, the Lifetime Family Plan may be perfect to save you money in the long run. The break-even point for the Lifetime Family Plan is 21.6 months. So if you plan to use Qube Money for at least two years, you will be saving money each month.
Qube Money Review – My Opinion
I am a big fan of the cash envelope system for financial health and I have recommended it to many people. However, over the last couple of years, I have recognized a need for a different strategy.
There are many places to get great deals online and a cash envelope system forces you to visit brick and mortar stores. Unfortunately, visiting a business in person is not always the best way to get a good deal.
I'm a big fan of Rakuten and Honey, which are online cashback and rewards apps. The traditional cash method doesn't work well with this strategy. Frankly, one of the reasons my wife and I stopped using cash envelopes was due to how difficult it was to use them in everyday life.
I Wish I Came Up With The Idea
When I learned about Qube Money, I was blown away. To be completely honest, I wish I would have thought of this concept years ago. Qube Money is an apples to apples comparison for cash envelopes.
Frankly, my wife is sick and tired of me talking about Qube Money. I believe this financial service will eventually change the way people budget their money. Sadly, I also think this is the beginning of the end for cash envelopes.
Financial freedom is still possible, but the way in which we achieve it will continually change in the age of financial technology (fintech). Financial fulfillment will now come in the form of digital banking and a modern-day spending behavior directly in contrast to the previous cardless money movement.
---