Many of us are looking to embrace a more frugal approach to spending. If you're on a mission to save money or you'd like to have more disposable income, there are ways to save without sacrificing all of life's joys.
Here are some tips to help you tighten your belt without making significant changes to the way you live.
1. Shop around and compare prices
In years gone by, you had to visit endless stores or spend hours on the phone to check prices and make sure you were getting the best deal. Today, thanks to the Internet, you can compare offers and check prices in an instant from the comfort of your couch.
Search engines and comparison sites enable you to find the lowest prices on everything from pet food and children's clothing to electrical appliances, phone contracts, and insurance.
You can save when buying products by entering key phrases, the name of a branded product, or a code or serial number and comparing offers from different websites and retailers. With insurance and services like TV and broadband, you can enter your details into a comparison site, and it will present you with tailored results.
You can filter the list to find the most suitable offers for your requirements, and you can add or take away features to alter the price.
It is particularly beneficial to compare prices if you buy in bulk or have an insurance policy or a phone or broadband contract, which is due for renewal. Look for the best offers, and if you'd like to stay with the same provider, contact them and ask them if they will match a competitor deal.
2. Stick to a budget
Most people don't have a bottomless pit of money, which means that it's essential to control spending. Budgeting is a brilliant way to manage your money, increase your savings account balance, and cut down on unnecessary purchases.
Drawing up a budget involves comparing your income with your outgoings to give you an accurate idea of how much disposable income you have. You can then decide how much you want to save and set yourself spending limits for different expenses.
Before you start your budget, take time to go through recent bank statements and see where your money is going. This can help you highlight areas where you could lower spending and outline any expenses you were unaware of.
If you have subscriptions and memberships that you don't use or you'd forgotten about, for example, you can cancel them and save yourself money each month. You can also try to cap spending on certain outgoings if you feel like you're spending too much. If you're going out to eat regularly, for example, you might want to set yourself a budget to prevent overspending.
3. Monitor spending on groceries and eating out
Be honest. How much do you spend on buying groceries or ordering takeouts, and going out to eat per month? Some of us spend a lot more than we think. The cost of a takeaway coffee in the morning, lunch at a cafe, and an evening meal at a restaurant on a Friday night can soon add up.
If you've analyzed your budget and want to lower costs, it's beneficial to try and cook more at home, prepare your lunches to take to work, and explore alternatives to dining out. Write a list of recipes you'd like to try, plan a menu and take advantage of services like Waitrose rapid free delivery.
You can order ingredients to whip up a fresh, healthy, nutritious meal delivered to your door and stock up on supplies to last you all week. As well as cooking an evening meal, you can also rustle up tasty, inexpensive lunches the evening before, including salads, pasta dishes, wraps and sandwiches, and soups.
If you're not a master chef or need inspiration for new dishes, search online for simple, quick recipes. You can create a delicious feast in less than half an hour without having premium ingredients or all the utensils and gadgets you'd find in a professional kitchen.
If you love to eat out, but you're on a savings drive, consider hosting a dinner party or taking it in turns to cook with friends and family members. You can also look for coupons and vouchers for restaurants and set a budget that enables you to treat yourself from time to time.
4. Cut down on commuting costs
Many people who commute to work spend a significant portion of their income on gas or bus, train, or subway tickets. If commuting costs are eating into your disposable income, there are ways to save. If you work nearby, you could run, walk or cycle to work instead of driving.
Another option is to invest in an annual pass or a season ticket to reduce the cost of individual journeys if you commute daily. You could also ask colleagues about sharing lifts and carpooling and talk to your boss about working from home more frequently if this is a viable option.
5. Saving on energy bills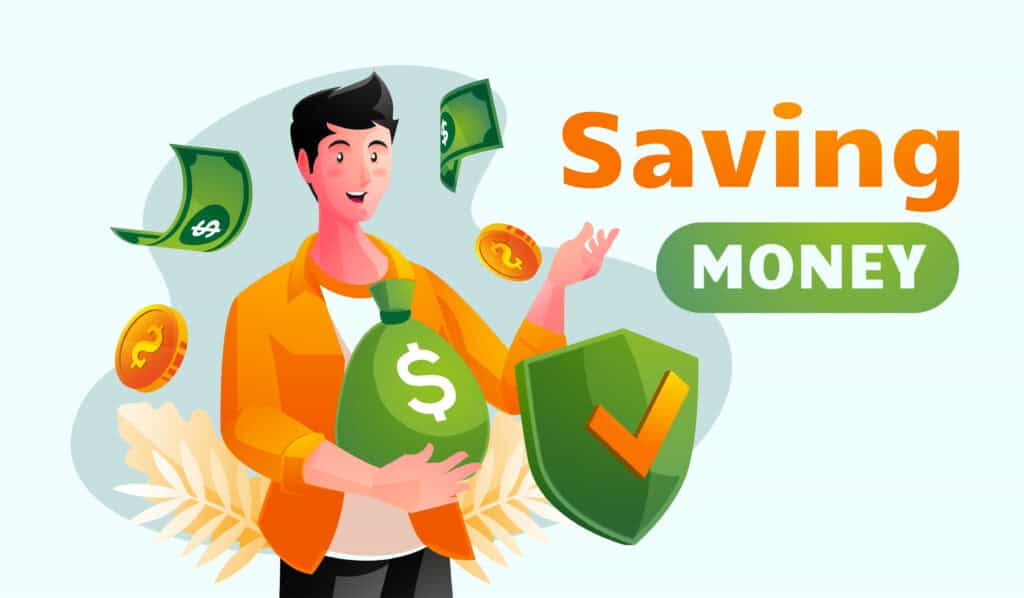 Studies suggest that the average US household spends around 2-3% of its annual income on electricity. If you dread the day your bills arrive in the mail, or you'd like to try and reduce energy consumption to do your bit for the environment, it's a great idea to try and be more resourceful.
Using a smart meter is a brilliant place to start. Smart meters give you information about how much energy you are using and how much money you spend in real-time. This can help you become more aware of your household consumption and save money.
One of the easiest ways to lower spending on energy bills is to ensure your appliances are turned off at the socket and to switch lights off when it's light outside, or you leave a room. You can also swap conventional bulbs for LED lights and replace old heating systems and appliances with new, energy-efficient models.
You can also save on heating in the winter months by insulating your home, investing in double glazing, keeping internal doors closed, and plugging gaps and holes in external walls. To save water, you can swap having a bath for a quick shower and collect rainwater.
Rainwater is ideal for watering plants in the garden and cleaning your car.
6. Organize debts
The vast majority of adults have some form of debt. In most cases, debts are manageable, and they cover expenses like mortgages. In some cases, debts add up, and people find it difficult to pay the money back, especially when interest fees are applied.
If you have outstanding debts and are spending a lot of money each month due to interest or penalties, it's hugely beneficial to organize and control your debts to reduce your total debt. If you only have a mortgage or are paying back a loan and you're up to date with repayments, you don't need to worry.
If you're resorting to using credit cards, you're considering taking out additional loans, or you're not making a dent in your debt value due to interest fees, seek advice. An experienced debt adviser can help you determine how best to start clearing your debts and give you information about steps you can take to improve your financial situation.
7. Have fun for free
After months of staying at home, many of us look forward to getting out and about, seeing friends and family, and having fun. While many of us will be excited about getting out and making plans, it's natural to be slightly apprehensive about your diary filling up if you're worried about money or trying to save.
The good news is that there are lots of ways to have fun without breaking the bank. Look out for details of free events in your local area by searching online, joining community groups on social media, and exploring inexpensive activities and excursions.
Going to the park, the beach, or having a picnic are great ideas for socializing and enjoying the sunshine in the summer without spending a fortune. You can also take advantage of attractions that offer free admission, for example, museums and galleries, and save one child or family ticket.
8. Embrace recycling, upcycling, buying second-hand, and repurposing
Buying new clothes, furniture, and toys for children can be expensive. One fantastic way to save money and reduce waste is to embrace recycling, upcycling, and repurposing. Before you throw away old tables, clothes you've barely worn, or toys your kids have grown out of, think about whether they could be used for another purpose or by another person or family.
You can upcycle tired or damaged furniture, donate to charity or swap clothes and toys with friends, neighbors, or people you interact with via social media groups. You can also recycle anything made from recyclable materials, such as plastic, cardboard, glass, and paper.
After an incredibly tough year, many of us are looking for ways to tighten our belts and save money. Take these tips on board to save without making sacrifices.