Dabbl is a mobile phone application through which people earn money. Money is earned when you complete fun interactive games, quizzes, and videos. Reviews about the app are both negative and positive. This Dabbl review will provide an honest assessment of the app and its positives and negatives.
Dabbl was first created as AdJoy, a product of the famous AdJoy Company, in 2015. The AdJoy Company is well known for the significant impact it has had in the media marketing and digital advertisement sectors. All operations known with the name AdJoy were, however, changed to Dabbl. Dabbl, therefore, also represents the company and all it has to offer.
The idea behind AdJoy was that people have to view ads from big brands for free each time they are online. Unfortunately, while people enjoyed watching ads for money, the company has not maintained or increased the earnings for people years later. On the contrary, points earned continue to drop, and people can only earn gift cards worth very little.
Accessing And Using Dabbl
The Dabbl app is available for Android device users on Google Play, while Apple users can download it on the iTunes store.
To get started:
Go to the Google Play store on your mobile phone app and download Dabbl.
Click to open the app, and there will be a welcome screen, and you can view a mini tutorial to guide you on the use.
Swipe through the tutorial and select the 'Get Started' button.
You will then be required to put in your phone number and date of birth. Dabbl has a minimum age requirement of 13 years old. In the pop-up screen, confirm your phone number and wait for a confirmation message on your phone. The message will give you a 4-digit verification code that you should put on the Dabbl screen to complete the process.
Before you start using it, Dabbl will request permission to enter your zip code or use your location. Having completed the installation process, you can now browse through the app and fill in your personal details on the top left. You can also select your notification, profile picture, and location preferences.
Dabbl is similar to Swagbucks, where the company uses the app as an advertisement platform for its partners. The partners also use the platform to carry out market research to reach their customers better. To motivate the customers to get involved and engaged, especially in market research and advertisement, Dabbl awards its users.
Users earn through reviewing the advertisements, videos, and surveys. Users submit their opinion and reviews through completing surveys and viewing the ads on the app. The company uses this information to understand the market and help its partners do the same. As a result, most of the rewards given to qualifying users come from the company partners.
Signing Up With Dabbl
The Dabbl platform is, however, not as easily accessible as the Survey Junkie or LifePoints platform. This is because you cannot easily sign up for Dabbl on the website when a desktop or laptop is your most convenient gadget to use. Instead, you must download the app to access it, which works on a mobile device.
It is, however, free to download, sign up and use.
In searching for information and content about Dabbl online, you will realize that various other companies use the same name. This can confuse users, and they should be keen to ensure they are viewing the right content.
It is also important to note that you cannot use Dabbl if you are not in the U.S. The app requires you to register with an American telephone number for you to use it. For the Dabbl app, a user cannot share details with another user as the app only takes one email and phone number per user.
Those you refer can use your link to sign up. However, they have to add their own email address and phone number for security purposes.
What The Dabbl App Offers
When you open the app, you can see your account dashboard. The top left of the screen shows the profile picture you uploaded or a blank profile outline. The top right will show your total counterpoints. When you click on the counterpoints, a new screen is opened where there is a growth wheel of how much you have earned. You can only earn a maximum of 5,000 counterpoints.
You need a total of 5,000 points to earn a minimum payout of $5 to a maximum of a $10 gift card.
There are three sections below the points' wheel; lifetime points, Dabbl/current points, and referrals. The next screen of the app will show a number of titles you read through. These titles include savings, surveys, and web content.
Below the 'From Dabbl' title are premium experiences that Dabble users get to enjoy, including videos and other ways to make money, such as their referral program. This means that when you have an account or profile, you can earn on Dabbl by referring others to join.
The app also helps you earn by answering surveys. These surveys are all listed under the 'Surveys' title. The surveys are from various companies, including Tap Research.
They are also From the Web lists, which entail ads and videos from different companies or advertising agencies. Here, you earn by watching the ads and videos.
The final listing is of Extra Savings that comprises links to other saving opportunities from partners of the app. You click either an ad, survey, or video from these options, and you have to complete viewing it to earn.
Once you click on the video, you will view what the video will pay you. Once you complete your task, you can take a survey on your experience after using the app. Your response will be in the form of an emoji that elaborates your opinion.
How To Earn Rewards On Dabbl
There are various ways through which you can earn money on the Dabbl app. A 'From Dabbl' section pays you a number of points for responding to short quizzes, entirely watching short videos, and watching ad videos. You can earn as much as 30 points in an interactive video and up to 40 points from watching a video ad.
Surveys
In the Surveys section, you will find an introduction survey on Tap Research that you can complete and earn 20 points. Under the Tap Research survey, you can opt for several different surveys with different times and points from 25 to 555 points.
Surveys offered on Dabbl can be short or long, depending on the company and objective of the survey. The surveys are either prepared by the company or by its partners. For surveys, users who complete them earn approximately $0.1 to $0.5. Other surveys also earn more than $.05.
Before you start taking the survey, you will be required to respond to several questions about yourself for the company to determine whether you are fit for the survey or not. The questions are about your gender, location, marital status, and other personal factors.
In most cases, users do not qualify to take these surveys. Whether you take the survey or not, you will be awarded $0.1 for simply taking the screening questionnaire to the end.
Videos (Ads And Commercials)
Watching videos on Dabbl is another way you can earn money. There are short and long videos on the app, primarily short adverts and commercial videos from the company's partner brands. You may open the app at a particular time of the day, and there will be various videos that pop up for you to watch.
Unlike other sites where users have to watch ads and commercials for free, Dabbl rewards you for watching the videos.
From the various ways one can earn on this app, videos are the most common and preferred method of earning points. They contain content that users may also find helpful for themselves. For example, the videos showcase products from Dabbl or their partners; give information on the companies' discounts and offers.
The quick videos on this platform usually are 30 seconds to one minute long.
Other Offers
Another way to earn on Dabbl in your spare time is by trying out the value of offers presented. The app often presents new offers apart from the usual surveys, videos, or ads to users. These offers are aimed at helping you to earn various online rewards.
The good thing is that these offers will earn you more than the normal tasks on the app. Such offers typically include basic tasks like signing up for a new site or downloading a particular mobile app for you to earn a reward. The app also has offered such as answering questionnaires or watching long videos for more rewards or points.
There is also the From the Web segment, where you earn points from watching ad videos and completing quizzes. A one-minute ad, for instance, can earn you approximately 10 points. The app also offers sponsored advertising on the Extra Savings section on the app.
In this area, you earn by clicking through for good savings. These savings may include awesome discounts on various products and other things.
Referrals
The last way to earn on Dabbl is through referrals. You get to refer friends and other people to join the app, and this earns you as much as 1000 points for every referral that ultimately registers on Dabbl. On this app, however, you can only refer a maximum of 20 people.
The number of points you can earn each week varies. This means that the points you earn change weekly, and so does the actual money at the end. You can only access one option to earn at a time on this app.
Dabbl Payout
The Dabbl app has a distinct payout system compared to other online money-making platforms. There are no varied options allowing you to select the worth of various gift cards. This limits users to gift card options worth $5 to $10 only.
For the point counter, the maximum points it can hold are 5,000, and with these points, you proceed to claim your gift card. After your reward, you can restart the app and start working for another 5000 points.
For Dabbl, 1,000 points are equal to and worth $1. For the Dabbl app, there are only payouts of $5 e-gift cards.
With your 5000 points, the following are some of the form of gift cards you can claim:
Barnes and Noble worth $5
Best Buy gift card worth $5
Amazon gift card worth $5
AMC Theaters gift card worth $5
Spotify worth $10
Ulta worth $10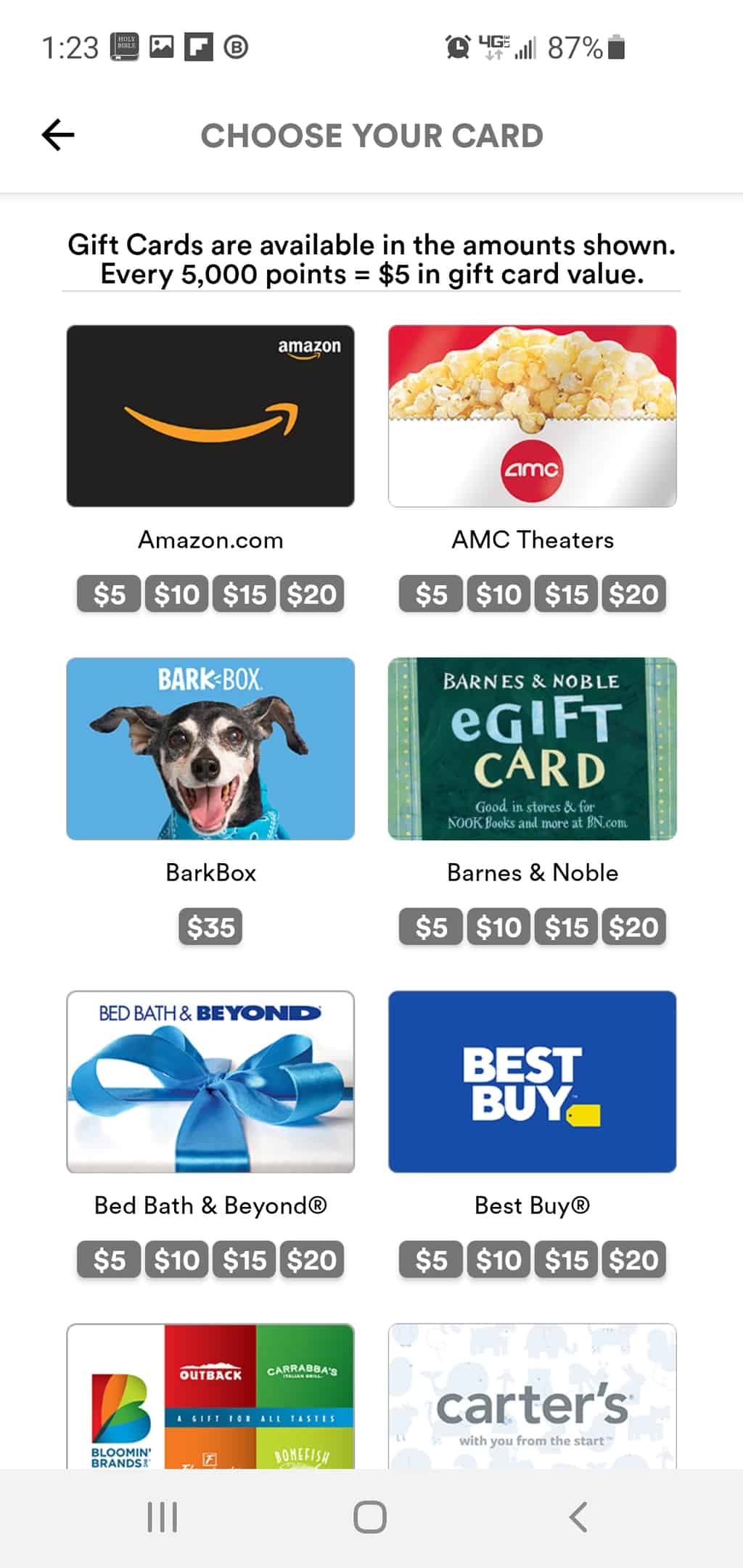 Dabbl App Advantages
This app has its advantages, and the main one is that it is effortless to access and use. In addition, it is readily available for download on your mobile device, and you can easily spare a few minutes a day for the surveys, videos, and ads.
Another advantage is that the mobile app is easy to understand and use. The app sections are clearly indicated and elaborated, while the language is simple for any user.
There is also an elaborate FAQ section on the app's website, and through this section, you get all information on how to use the app. Dabbl also offers excellent savings discounts to users, and it is a perfect way to learn how to make savings.
The app has excellent customer support and services that guarantee rapid response to queries and inquiries on email.
Disadvantages Of Using Dabbl
This app has various cons, with the main one being the limit on the points you can earn. Users do not have many earning options, and this is a significant disadvantage or one way the app can upgrade.
The other main disadvantage is that payouts for points earned are not in the form of cash payments. This actually discourages many people from using this app since they can only earn E-gift cards worth $5 to $10.
Also, the surveys and ads on the Dabbl app are third parties. This means that they can be found on other platforms.
When the ads and surveys are not original, they will not earn users nearly as much. Another setback with the Dabbl app is that deaf and hard of hearing people cannot watch the videos to the end and understand. This is because the videos are not captioned or explained.
Therefore, we can conclude that the Dabbl app puts together various features to help people earn valuable points. It is, however, not outstanding in any way and does not earn users actual cash.
Dabbl App Reviews By Users
Out of the overall 5-star ratings on Google Play, the Dabbl app has 4.2, and the reviews are only from 382 reviewers. This is quite a good rating on Google Play.
According to one of the reviewers, the Dabbl app is the best they have used of such kind. Having tried out several apps for surveys, the reviewers always ended up disappointed. With this app, however, they were happy about the app providing surveys that one can earn from and also that the app links users to other places where they can access more surveys.
In addition, the reviewer was happy that after a short time using the app, their points were already worth $10.
Another reviewer also stated that the app was efficient as one can accumulate points within a short time. When the points already qualify for a gift, the app also ensures that the user receives the gift fast. For these reasons, this reviewer went ahead to recommend the Dabbl app.
As per another reviewer, the Dabbl app is impressive since earning points is possible and realistic. The reviewer compared the app with others claiming to help people earn similarly and stated that this app is legit.
On the other hand, some reviewers have an issue with the app. One stated that referrals are supposed to earn users some points. However, it is not the actual case with the Dabbl app. They claimed to have had many people sign up for the app and got nothing in return. Another reviewer found the app not worth investing time into since it is impossible to get gift cards worth a lot of money, terming the gifts cards awarded as relatively little an amount.
A reviewer on Google play termed the Dabbl app as a big scam, warning people not to waste time on it. According to this disclaimer review, the app significantly lowers a user's earned amount as they begin to approach the reward worth $10. For example, the reviewer stated that as soon as they had earned $9, the amount dropped to $0.06.
Redeeming Money On Dabbl
Most of the rewarding sites allow users to redeem any amount for gift cards. However, with Dabbl, you can only redeem a minimum of $5 to a maximum of $10 worth of points in the form of an E-gift card. The app allows you to select from a wide variety of gift cards that are all worth $5 or $10.
These gift cards are a selection from Dabbl partners. Once you earn enough points to redeem your gift cards, you can choose them from the list according to your preference. The gift card you select and earn is emailed to you within 24 hours.
Does Dabbl Earn Users Money?
People are excited about the idea of earning extra money online, and indeed there are many online platforms where people can earn money. Dabbl is, however, different because it provides gift card rewards and not real money rewards.
You do earn from Dabbl through various ways, including completing surveys and watching videos. Dabbl directs users to a variety of tasks that they need to complete to earn them points.
Compared to platforms such as LifePoints and others, Dabbl does not allow users to choose additional tasks while leaving others. It mainly selects automatically. In some instances, the options on earning are not all available throughout on Dabbl. When you open the app at a particular time, a list of all the available offers will be presented to you. The list may include surveys, videos, or games.
If you are not a big fan of what is offered, you still have to work with what is available or try another day or time. Therefore, it would help if you had an open mind when signing up for Dabbl since you can't always wait for your preferred offers.
In most cases, users who opt to wait for their preferred offers have their weekly earnings affected. Also, some offers earn more than others, and users prefer high-earning offers.
The Dabbl app was created in the year 2015 and has since had several changes. It has even undergone rebranding from AdJoy to Dabbl. It is a legit app and is free to download and sign up for.
From the current reviews, however, it is not motivating for people to want to use it. Reviews are very important for an online platform like Dabbl because many people will sign up or fail to sign up for something based on the reviews and comments given.
Many people do not want to spend so much time deciding on which app or platform to use and the one to avoid. The better the reviews, the higher the chances that people will use your app or platform. When there are many negative reviews, people tend to shy away from getting involved.
General FAQ
What exactly is Dabbl?
Dabbl is an app where you can earn points to exchange for rewards by watching videos, participating in quizzes, and playing games.
How does Dabbl make money?
Dabbl makes money from the advertisements shown to users. Dabbl transfers a portion of the advertisement income to the app users.
How much money can I earn with Dabbl?
Because activities offered vary each week, the amount you can earn from Dabbl will vary. The more often you check the app, the more rewards you can earn.
Do the gift cards I receive from Dabbl points expire?
The electronic gift cards obtained after redeeming Dabbl points do not expire.