We rely on our cars all the time for convenience in traveling. But, unfortunately, sometimes they can get dirty and banged up. When was the last time you took care of your car and gave it a thorough cleaning?
Car detailing provides the solution to support your car's value, clean its interior, maintain its engine and protect its exterior. Some people assume traditional car washing and car detailing are the same, but that's far from the truth.
We're here to help you understand what car detailing is, what it entails, and what to do if you want to start a mobile detailing business. Read on for all this information and more.
What Is Car Detailing?
Car detailing is more thorough than a traditional car wash. It is more labor-intensive and precise. While a car wash usually cleans the exterior through an automated system, car detailing involves exterior, interior, and engine cleaning. Every car has unique cleaning needs; a car wash doesn't provide the personal touch that allows this.
Car detailing is usually done by hand and can restore your car to like-new conditions. It reconditions your vehicle and protects it, so it remains in the best shape for a long time. Experienced detailers can provide you with professional detail services using high-quality products and the proper techniques.
Depending on the type, make, model, and color, they can also use customized solutions to cater to your car's specific needs. For those of you with vintage cars, car detailing is also the way to maintain its condition and prevent paint job scratches.
What Is Mobile Car Detailing?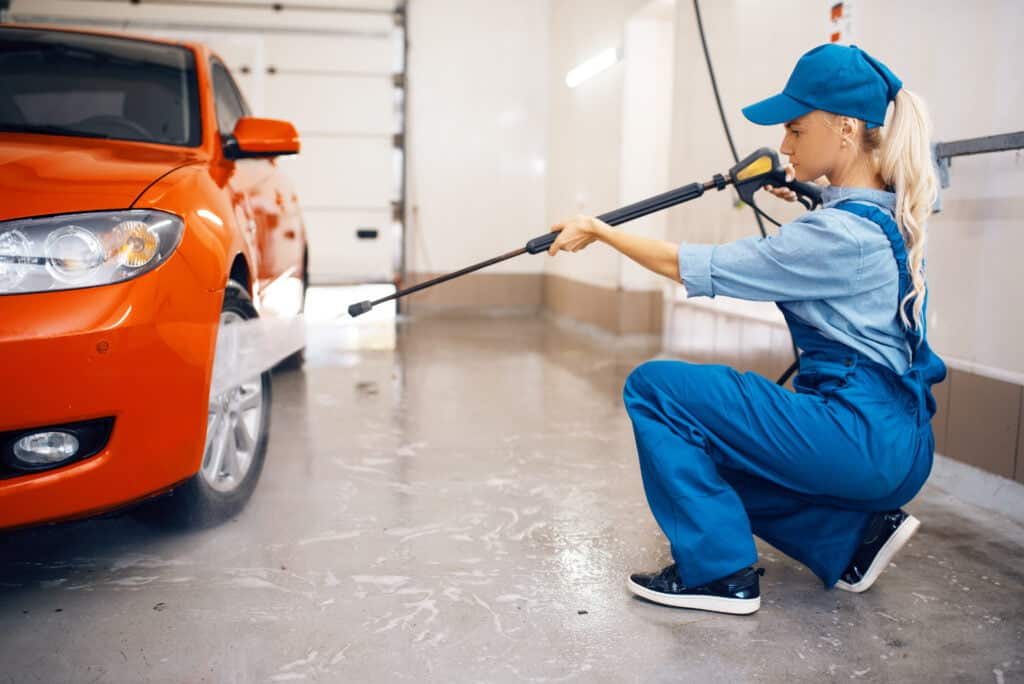 Mobile car detailing is like a mobile car wash where the professional detailing service is brought directly to your location. You can schedule the service in advance, and the service will show up at the time and place of your convenience. Some mobile car detailing businesses can even do same-day services.
Instead of traveling to the auto detailing company, they come to you with the necessary equipment in a van or trailer. All the professionals will need is a space to clean the cars. In addition, they will have the water source and power supply they need.
How Much Does A Car Detailing Cost?
Most mobile auto detailing services have detailing packages with different services you can select. The price will vary depending on the package, the condition of your car's cleanliness, and the size of your vehicle. The less frequently you detail your vehicle, the more intensive the service will be, which could cost more in the long run.
To save money, give your car a complete detailing job three or four times a year. The quality of products used, the reputation of the business and the level of professionalism can also influence the price.
Typically, you can expect a price of $50 to $125 for averaged sized vehicles and $75 to $150 for a van or SUV when selecting a basic detailing package. Basic services should include:
Exterior wash and dry (exterior detailing)
Tire cleaning
Sealing or waxing
Polishing
Interior vacuuming
Mirror and trim cleaning
Upgraded packages will have more attention to detail and additional services such as air fresheners or interior brushing. Make sure to inquire what services you'll be getting. These packages are usually $150 or more for regular-sized vehicles and $175 or more for larger vans and trucks. Express cleaning options may also have different price points.
Most auto detailing companies will offer additional add-ons or specialized services depending on your needs, such as extra care for vintage cars. Some common add-ons and their costs are:
Superior wax: $50 and up
Steam cleaning or carpet shampoo: $75 and up
Leather upholstery cleaning: $50 average
Dent removal services: $75 to $125 for minor dents
What Does A Full Detail On A Car Include?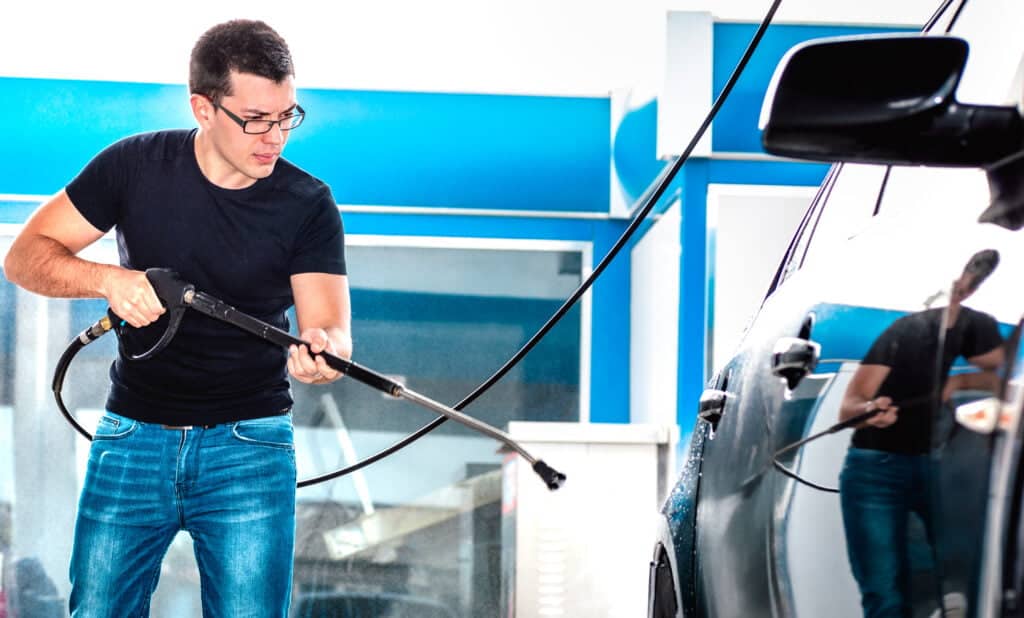 Every auto detail company will have different available services and packages. However, you can typically expect a full car detailing to include some or all of the following:
Exterior Car Detailing
Exterior hand wash and dry, removing mud and dirt with specialized foams and soaps
Bug removal from exterior and windows
Clean windows and rubber surfaces
Surface wash with mitts and microfiber towels, including clean headlights
Scrub wheels, including lug nuts and calipers
Remove embedded dirt using special products, including an automotive clay bar treatment.
Applying protective wax for a beautiful shine
Complete finishing touches on the trim
Interior Car Detailing
Vacuum upholstery and carpet to remove debris and dirt
Shampoo upholstery and carpet for deep cleaning and to remove stains
Steam cleaning to remove tough stains in seats and carpets
Leather conditioning for tough stains
Scrub leather seats and surfaces
Clean and dress plastic and vinyl surfaces
Clean and polish interior glass
Odor and smoke removal with specialized products
Deodorizing to leave the car smelling new and clean
Engine Detailing
Spray the engine bay lightly with water
Apply degreaser to exposed engine components
Rinse engine with light water spray
Dry all plastic, silicone, and rubber silicone to prevent cracking
Other Potential Services
Dent removal services
Auto paint restoration
Chip paint repair
Dog hair removal from the interior
Paint protection film (PPF)
Ceramic coating as an alternative to the protective wax
Is It Worth It To Detail Your Car?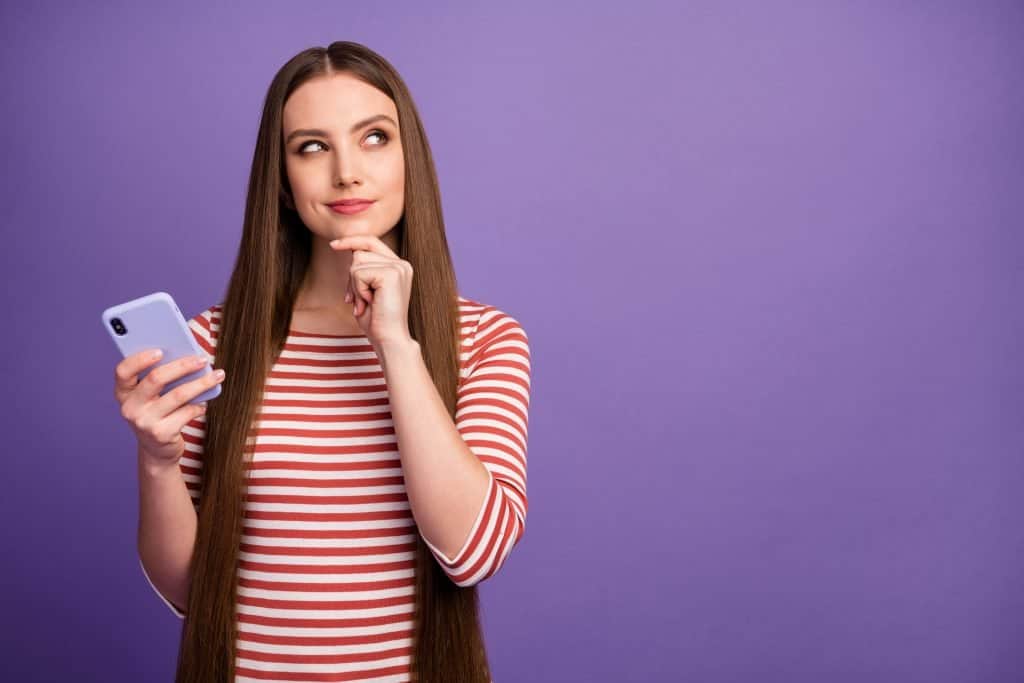 While a traditional car wash may sound cheap and easy, it doesn't keep your vehicle in pristine condition as a professional detail can. If you want to extend the life of your vehicle by protecting the car's paint and interior, detailing provides more than just washing off the dirt on the body and cleaning windows. You can be confident every nook and cranny of your car is clean, as well as add-on services for dent repair or paint correction.
With your car being a significant investment, taking the time to care for it is worth it in the long run. It will allow you to drive your car longer and improve the resale value if you decide to sell it.
Why You Should Detail Your Car
There are numerous reasons to detail your car frequently. Some of the main ones are:
Protection: detailing protects your car from natural elements and extends the vehicle's life, especially with services such as ceramic coating and paint protection film (PPF).
Maximizes Resale Value: a well-maintained and clean car will increase the resale value when ready to sell. Car detailing can make your tires shine, interior smell great, and restore the paint.
Saves money: car detailing is another component of the maintenance required for your car to run well and for longer, allowing you to save money in the long run.
Improves Safety and Health: properly cleaned exteriors can help you see better when driving. Additionally, clean interiors, including vent cleaning, remove dust and hazardous particles that can cause allergies and other illnesses.
How Often You Should Get Your Car Detailed
It is recommended to detail your car at least every three months to maintain pristine conditions. If you take long cross-country trips or leave your vehicle outside after a rainstorm, you may also want to get it detailed soon.
The more frequently you get your car detailed, the less intensive a detailing project will be at one time. You can also save money this way and budget for additional services needed during each detailing session.
How To Choose A Mobile Car Detailing Service
Deciding on a reliable and professional mobile car detailer can be tricky. Use the following three factors to make the best-informed choice.
Services
An auto detailing professional that provides excellent customer service and treats each project with personal care is the best way to go. While there are many packages you can choose from, the basic services should include exterior cleaning, wipe down of the trunk, rims, tires, and an interior vacuum. In addition, make sure the detailer you choose also offers all the additional specialty services you want, such as:
Synthetic waxing
Claying
Engine degreasing
Dog hair removal
Ceramic coating
Tar stain removal
Mobility
Do you prefer the convenience of a detailing service that travels to you? Inquire if the provider has mobile services and how scheduling works. Services that have the flexibility to do next-day or same-day jobs can also be a better option than waiting a week for an appointment.
For instance, if you're on the island of Oahu and are looking to get an auto detailing service, give ewa beach mobile detailing a call at 808-204-4970. You have the choice for them to come to you or you go to them, it's that easy.
Price
Shop around for your pricing options and ask about what services are included in the package. For example, the technique used, such as waterless or steam wash, can impact price. You can also ask about the equipment and products they use as these can influence the service price.
10 Best Mobile Car Detail Companies
Here are some of the best mobile car detail companies to consider for your next car detailing service.
MobileWash has services expanding from California to Florida through an extensive network of professional detailers. In addition, they offer a mobile app with on-demand features so you can have a professional detailer at your location in as soon as five minutes. They also guarantee low prices, no hidden fees, and exceptional customer service.
National Detail Pros offers car detailing services in locations across the country. Just select your vehicle type, make, model, color, and enter your zip code for an appointment. They provide services for automobiles, RVs, ATVs, and industrial vehicles.
All American Detailing serves areas throughout the United States. Their expert detailers are licensed, insured, and highly trained, including certified ceramic installers. They can service cars, trucks, RVs, and 5-wheel vehicles.
Elyon Mobile Detail is a family-owned business that strongly believes in eco-friendly detailing. They provide professional detailing services to residential and commercial customers in the San Francisco Bay Area.
Allure Detail provides full-service mobile auto detailing in the greater Los Angeles and Orange County areas. They have trained professionals, use the latest waterless technique, and provide some of the best ceramic coating services.
Car Detailing Pasadena provides extensive knowledge of car care and offers mobile car detailing services. They serve Pasadena and the surrounding areas, including San Gabriel, Altadena, Alhambra, and the Sierra Madre. On top of exterior and interior detailing, they offer ceramic, clay bar, headlight restoration, and smoke removal services.
Big's Mobile Detailing offers quality detailing services throughout the Puget Sound area in Washington state. Pricing packages include those for residential and commercial customers. They have multiple five-star ratings and average above 4.5 stars on Yelp, Google Business, and Facebook.
PC Mobile detailing service is located in the New York tri-state area. They partner with organizations that trust them to offer quality car detailing services to tenants, visitors, employees, and residents. They will detail small, midsize, large, or extra-large vehicles as well as fleets and cars for events and auto shows.
EcoPal Mobile Detail specializes in nontoxic and eco-friendly mobile detailing and products. They have multi-car discount rates and can complete your car detailing within the same day. EcoPal Mobile Detail serves the Dallas-Fort Worth, Texas area.
Xcellent Touch serves the greater Las Vegas area and is experienced in car detailing techniques for the Las Vegas environment. They use effective cleaning materials to remove dirt safely while protecting the finish and enhancing the shine of your vehicle.
How Long Does A Full Detail Take?
Depending on the service package you select, how dirty your car is, and what add-ons you include, the time it takes to detail your car varies. Regular cleaning can be between 90 minutes to over three hours. If your vehicle is clean, has been detailed recently, and you only want the basic package of services, it could take only 30 minutes.
Using a mobile car detailing service is excellent for busy people. It can prevent you from having to wait at a customer lounge. Instead, easily continue to work or do other life necessities while your car gets detailed.
Should I Tip A Mobile Car Detailer?
Gratuity and tips are usually not included in the price for car detailing. While most companies will not require you to tip, it is a good gesture to show you appreciate the service. Usually, a 10 to 20 percent tip of the total price is acceptable for car detailing services.
Is Car Detailing A Good Job?
Suppose you enjoy hands-on work, being active, and have good time management and a meticulous approach to work. In that case, you have the right basics for being a successful car detailer. However, car detailing is also a job that won't be going away anytime soon. Many people drive their cars every day, and most want to care for them for maintenance and aesthetic reasons.
The work you will do as a car detailer is mainly straightforward. However, some components require the knowledge and techniques to use specific equipment to detail the car properly. Cars that need a lot of work to restore can be tough and tiring, but the results at the end are often rewarding. Most customers are also very appreciative of the services you provide as a car detailer.
Whether or not you have good pay or benefits will depend on your employer. Regardless of your base pay, most car detailers make extra money on tips. As an employee, you can generally get good training and job security in a fast-paced environment.
As a car detailing business owner, you will have more responsibilities and the satisfaction of being an entrepreneur in a profitable business.
What Is The Investment For A Car Wash Business?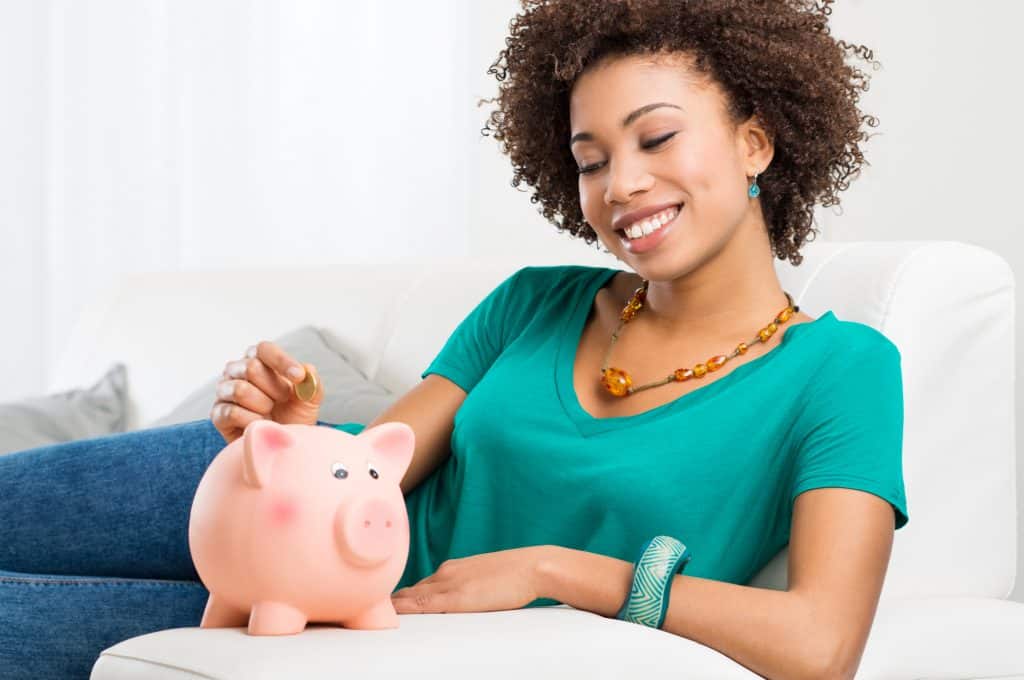 The average initial investment to start a mobile car detailing business is between $5,000 to $25,000. These costs will vary depending on what equipment you already have. For example, suppose you are planning a non-mobile car wash business. In that case, your investment costs will be more to cover the cost of your physical location.
When starting any business, make sure you satisfy all the legal requirements, including getting a car detailing license. You will also need to set aside money to budget for ongoing expenses, especially during the first couple of months as you build a customer base. These costs include:
Insurance
Tool and equipment maintenance
Product or supply replenishment
Marketing or advertising
Gas and vehicle maintenance for mobile businesses
A successful business also requires a business plan. In this plan, you lay out your service location, customer profile, how you will acquire customers, research competitors, and more.
Would Mobile Car Detailing Be A Good Business To Start?
If you love cars, have the skills to detail them professionally, and enjoy driving around to provide services, this business idea is optimal for you. A mobile car detailing business has lower overhead costs than a car wash business with a physical location. You can also easily start the business by yourself or with the help of one other person.
Since many people are busy today, having a car detailing service that travels to them is a convenient and popular option. You can also easily advertise to customers across a wider area since your business is not confined to one location.
Is Mobile Detailing Profitable?
Low overhead costs make it easier to turn a profit with a mobile car detailing business. Ensure you have efficient business operations, effective marketing, and excellent customer service to build a loyal customer base.
Car detailing costs in California are generally higher than in other states, so you can expect to earn more money. An auto detailer in California makes an average salary of $55,604 as of June 2021. The average mobile care detailer makes $13.86 per hour for the entire United States, which is 12% above the national average.
How Much Should I Charge For Car Detailing?
You want to make sure you cover all your costs, and the price should adequately reflect the value you provide. However, it also has to be competitive and reasonable. To decide how much to charge, research what your competitors in the area are charging. Also, consider the equipment quality, the time it takes you, and the product quality you are using.
Overall, the cost of professional detailing in the U.S. averages $160 and can be as low as $50. However, in cities like Sacramento or Los Angeles in California, you could charge up to $320. Most mobile auto detailing services will be priced according to the package, add-ons, and cleanliness level of the vehicle they are servicing.
What Size Trailer Do I Need For Mobile Detailing?
Since you will be traveling to customers, you will need a vehicle to accommodate all the equipment you need. Therefore, the vehicle will be one of your most significant investments. A suitable size is a 5-inch x 8-inch trailer or a 6-inch x 10-inch dual axle trailer. However, some people have 12 to 16-foot trailers with side-access doors.
What Equipment Do I Need For Mobile Car Detailing?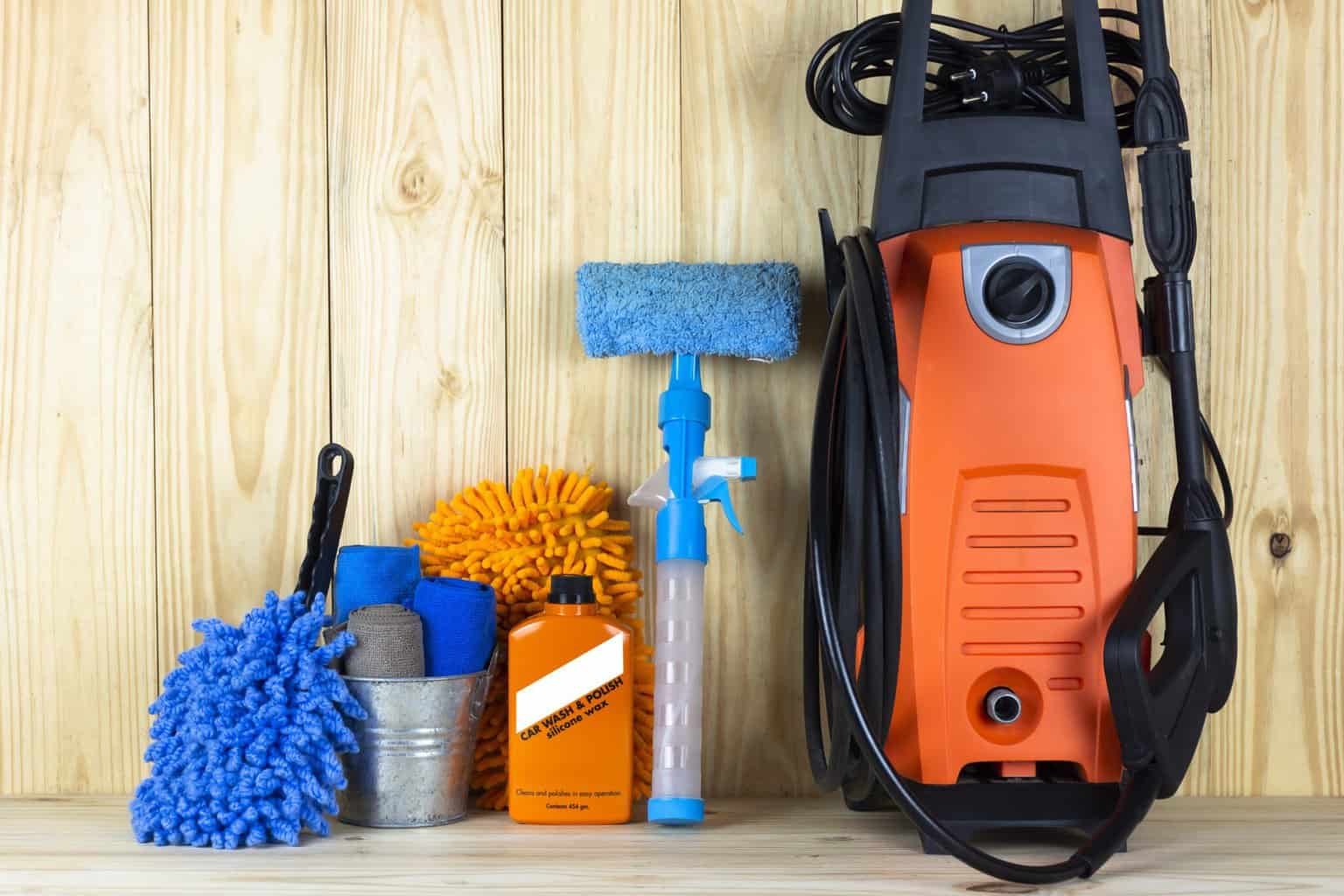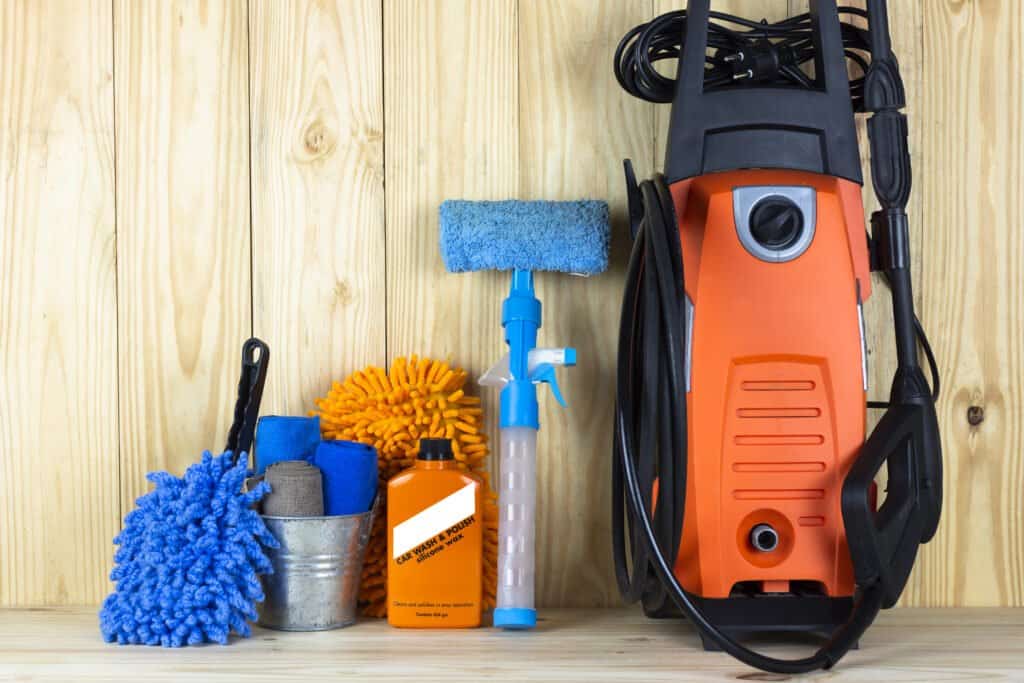 Providing car detailing services at the customer's selected location means you can't rely on their power source of water supply. You will need to have a way to bring these along yourself. You can easily purchase a portable generator for the power supply.
If you provide water car washes, you should have a tank of 80 to 100 gallons of water. You will also need a reclamation system to avoid illegally dumping water. However, you can also offer waterless car detailing, so you don't need a water supply tank or reclamation system.
The typical list of products you will need to start a mobile detailing business are:
Pressure washer
Rotary or orbital buffer
Waxes
Polishers
Detergents
Glass cleaners
Tire and rim cleaners
Deodorizers
Carpet and upholstery shampoo
Chemical storage
Vapor steamer
Buckets
Sponges
Brushes
Vacuums
Microfiber towels
Chamois cloths
Pro Tip: buy in bulk, since larger quantities are cheaper and you will need the products for future jobs anyway.
Car Detailing Equipment List PDF
For a complete list of the car detailing equipment, you will need to start an auto detailing company; refer to this PDF checklist by CarCleaningGuide.com.
What Is The Best Car Detailing Equipment?
Not all equipment and products are made equally. By using high-quality equipment, you can ensure you provide excellent services and also increase your prices accordingly. Investing in quality tools and products will also perform better and last longer, saving you time and money. Below is a list of some of the best brands to consider.
This cold water extractor for cleaning carpet and upholstery is the best affordable one on the market. It can tackle tough spots and stains with strong spray and powerful suction, all for under $200.
Although this hot water extractor is at a higher price point, it is reliable, best for starting out, and provides quality results at a commercial grade.
This pressure washer is light, compact, powerful, and has excellent hose quality. The maximum pressure is 1,600 pounds per square inch, and the hose length is 25 feet.
This premium-grade shampoo is one of the best car wash soaps available. It also has a safe pH-balanced formula so it can work on various material types.
Although higher priced than ordinary buckets, this bucket is durable and has a tray attachment for tools. It is also designed for wet sanding use.
This butter wet wax is one of the best overall car waxes because it's easy to apply and effortlessly wipes off. You can also use it on a damp surface, so it's great for beginners.
For your mechanical polishing and sanding needs, this is one of the best brands on the market. It's designed for ease of use and efficiency since you can use it to polish or sand with different pads.
DIY Car Detailing Step By Step
A professional car detailing service can save you time with their technical knowledge and quality equipment. However, suppose you want to save money and try car detailing yourself at home. In that case, you still must understand the basics to complete the job correctly. There is also a recommended order for detailing your car below.
Step 1: Evaluate Your Car
Look over your car to evaluate what it will need for cleaning and touch-ups. If it's not too dirty, you may be able to skip some of the steps below. However, if you want a full detailing, all the steps will give it a fresh start.
Step 2: Read Cleaning Product Labels
Make sure you use the right product for the right job and know which one to use. For example, some products suitable for the wheels may have chemicals that can eat away your paint—plan to purchase additional products if necessary.
Step 3: Start With The Wheels
Wheels are the dirtiest area and require a good pre-soak with wheel cleaner. Use specialized brushes to scrub hard-to-reach areas and spray-rinse them. Also, make sure to use a separate bucket and wash mitt than what you'd use on your paintwork.
Step 4: Pre-Cleaner
With a pre-cleaner, remove bugs and grime from the exterior surface of your car. Next, use a specialized cleaner to spray everywhere exposed to bug-splatter, including lower car areas.
Step 5: Snow Foam And Rinse
The snow foam stage removes stubborn dirt and loose particles from your car. This step reduces the risk of swirl marks on your paint during physical contact washing. Rinse the foam off.
Step 6: Contact Wash
Make sure to use a quality shampoo and cleaning mitts for this step, so any particles absorb into the mitt instead of dragging across the surface of your car. Also, use the two-bucket method: one with the solution and the other with plain water. Always rinse your mitt in the water bucket before using another round of solution. Wash your car thoroughly.
Step 7: Decontamination
This step can be optional but is highly recommended for full car detailing:
First, spray an iron dissolver to remove industrial fallout and rail dust on the paintwork.
Then, use a solvent tar remover to soften tar stuck on the paint.
Rewash your vehicle before using a clay bar process. Utilizing a lube, rub the clay bar over the paintwork to pick up any remaining contamination.
Wash and rinse again.
Step 8: Dry Your Car
You have to be thorough and work quickly during this step to prevent water spots. Start at the top and work your way down panel by panel. If you do have water spots, use a detailer to clean them up after.
Step 9: Polishing
You can polish using a machine polisher or by hand. However, for beginners, it is best to start with hand-polishing. Without experience, you can accidentally burn through your car paint using a machine polisher. To learn how to use machine polishers, practice first on scrap materials.
Step 10: Glazing
If you have a metallic car or darker colors, adding this glazing step can enhance your paintwork. Use a polymer-enriched, non-abrasive acrylic product.
Step 11: Waxing Or Sealant
Applying wax or sealant will protect your car paint and all your previous hard work. Make sure to use a product compatible with your paint. Wax options include synthetic waxes or Carnauba wax that is derived from Brazilian palm trees. Don't wax your car if it's wet or in the sun, or it might dry with streaks and unevenly.
Step 12: Windows
Use a glass cleaner and newspaper sheet or rag to scrub all your windows and mirrors.
Step 13: Engine
A clean and well-maintained engine can improve the resale value as well as prevent engine problems from occurring. Spray water lightly before applying a degreaser. Make sure also to cover your fender, so the degreaser doesn't ruin the paint job. Using citrus- or water-based degreasers are less aggressive on rubber hoses and seals.
Step 14: Get Started On The interior.
Once you've completed the exterior, clean out the junk in your car and get ready to vacuum it. Remove all big debris.
Step 15: Vacuum
Clean the small debris and dust from your upholstery and carpet using a portable vacuum. Ensure to get all the nook and crannies, including cleaning underneath your seat, by sliding the seat forward.
Step 16: Deodorize
To clean out the smell of cigarette smoke or any other foul odors from your car, use an air freshener or aerosol products such as Dakota Non-Smoke. Turn your fan onto recirculate mode and high, then spray the product into the intake opening. You can find the opening by holding a tissue near the blower motor.
Step 17: Leather Cleaning And Conditioning (Leather Treatment)
Apply protectant cream and leather cleaner to all the leather surfaces inside your car. You can also use a leather conditioner to spot-treat any stains, such as ink, clothing, or makeup. Let the conditioner sit for thirty minutes before wiping.
Step 18: Shampoo Upholstery And Carpet
By deep cleaning your upholstery and carpet, you can remove deep-seated dirt from the surfaces. Use a carpet-cleaning machine for the best results.
Tips For DIY Car Washing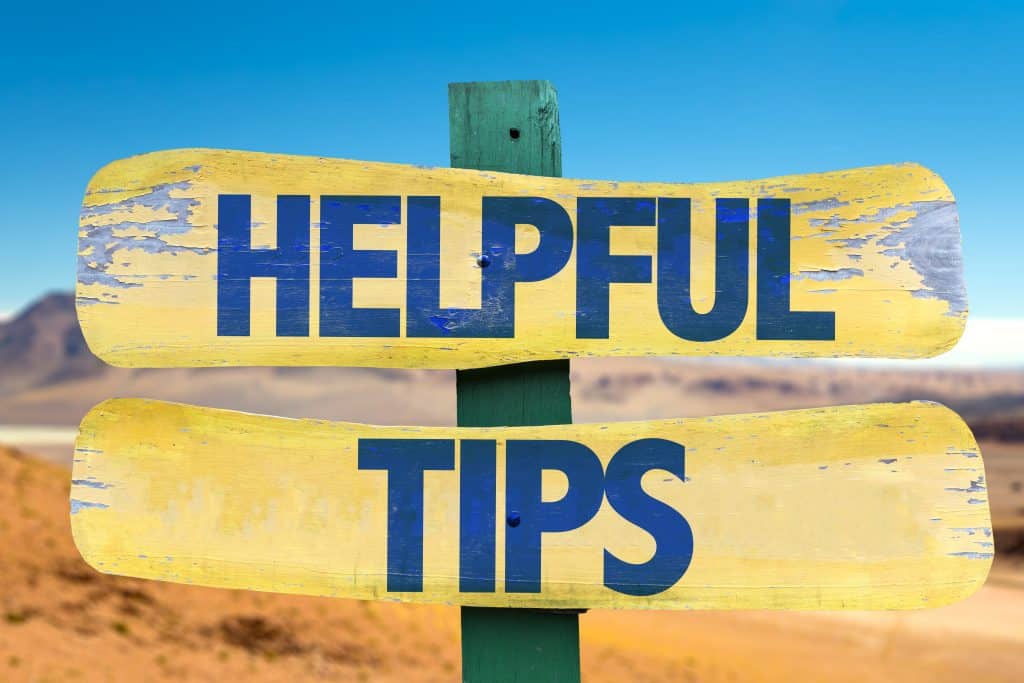 Car detailing products can be expensive. However, there are household items, including food products, that can surprisingly work for car detailing. For example:
Cooking spray can help wipe off brake dust from your wheels or loosen bug remains from your windshield.
Soda pop can clean your windshield after grim accumulates, especially after a rainstorm, or remove rust from chrome surfaces. However, make sure to wash thoroughly so it doesn't leave a sticky surface.
Mayonnaise can remove tar stain on your exterior. Rub it on, wait five or ten minutes, and wipe it off.
Baby wipes can easily clean your windshields with no rinsing required.
Hair conditioner with lanolin can polish your chrome surfaces for an impressive mirror finish.
White vinegar is a nontoxic cleaner for windshield wipers and to remove bumper stickers.
Can I Wash My Car With Dishwashing Soap?
You can use dishwashing soap to clean dirt, old wax, and sticky grease from your car's surface. However, a degreasing agent removes the oil in your paint job and undermines your wax job. So, it is not recommended unless you take the extra step to wax your car or are willing to re-paint.
Dishwashing soap is also not optimal for washing windows and glass surfaces as it can cause streaks as it dries. It's best to use a glass cleaner and a sheet of newspaper or rag.
Can I Wash My Car Windows With Windex?
Windex is a spray-and-rinse cleaner for getting streak-free shine without wiping. So, yes, you can conveniently use it to clean your car windows. You can also use it to clean your headlights.
However, Windex includes ammonia that can strip away tinting. So if you have tinted car windows, use a tint-safe cleaner instead.
Is It Legal To Wash Cars At Home In California?
Yes and No. The laws are different depending on the city or county. Generally, it is legal to wash your car on a driveway. However, there are violations for:
Not using a shutoff nozzle on the hose
Soapy water flowing into storm drains
Excessive use of water
Pressure washing your driveway and creating polluted runoff
Some cities, such as San Jose, have made it illegal to wash cars at home since the city is trying to cut water use. So, if you want to wash your car at home, check the laws in your area or try waterless washing.
Final Thoughts
There are multiple steps to car detailing. Although you can attempt it yourself, it can be more cost-effective and efficient to let a professional do it. You can also save time with a mobile car detailer that shows up at your location.
It can be beneficial to detail your car frequently to maintain its value and keep it in like-new condition. Starting a car detailing business can also be a profitable and rewarding service. Now you have all the information you need to know about car detailing.