Dropshipping can be a side hustle or a full-time business venture. Maybe you're a first-time entrepreneur eager to get your feet wet. Or perhaps you have plenty of business experience and want to get into this new industry. Whatever your goal, we've got you covered!
We've prepared the Ultimate Dropshipping 101 Guide. Get a clear understanding of the business model, its pros and cons, and how to get started!
Let's get into it!
What Is Dropshipping?
Dropshipping is basically acting as a middle-man between a supplier and a buyer.
It is a retail fulfillment model where you only have to handle the sale of a product. The storage and delivery are the supplier's responsibility.
Traditionally, to get into the online sales business, you would have to make a significant investment. You would have to purchase stock, rent a building to store it, and hire employees. 
This is not the sort of up-front money that the average person can afford to put up. But with dropshipping, all of this risk is left to the supplier.
Your part in this arrangement is to market the product and handle customer service. Once you make a sale, you automatically send the order to the supplier for fulfillment.
The dropshipping business model has gained more and more attention in the last few years. This is because it drastically lowers the threshold for starting an online business. Profit margins are lower than for traditional retailers, but there's still good money to be made.
Naturally, there are advantages and disadvantages to this sort of entrepreneurship. And there are common mistakes that can tank your business when it's just getting started. Let's explore what they are and how to avoid them.
How Does Dropshipping Work?
There are two main types of dropshipping that you can consider.
Building Your Own Store
The first option involves building your own website and selling products there. This is what most people picture when they think about this business.
You can do this by using a specialized eCommerce platform like Shopify or Woocommerce. These services are created specifically to build online stores. They provide compatible themes, a product search function, a cart, and payment options.
Alternatively, you can use a website builder with an eCommerce extension. Popular tools like Wix or Squarespace provide this type of functionality.
Selling On A Marketplace
The second option is to start selling on an existing marketplace platform such as eBay, Amazon, Etsy, etc.
This option allows you to skip the hassle of building a website. One advantage of this approach is that you can leverage the platform's existing client base. However, you will still need to drive traffic to your product or store page.
The downside is you will be competing with other sellers who might be offering lower prices. Choosing the right product becomes essential in this scenario.
No matter which dropshipping model you decide to use, make sure to take care of your bookkeeping.
The Next Steps
Once you've decided what you're going with you, need to follow a few steps.
1. Choose a dropshipping company/platform to work with
These companies connect you to suppliers. Choosing wisely is important, so do your research on how to spot a great one.
2. Select your products and sync them to your store or marketplace
Most dropshipping platforms integrate with eCommerce solutions and marketplaces. This means that adding products to your website is only a few clicks away.
3. Set up your shipping costs
These costs might vary across different products on your site. Adjust the settings based on how close the buyer is to the seller. Alternatively, some services will calculate shipping costs automatically.
4. Include tax in your price
All platforms will allow you to set up taxes for what you're selling. It's up to you whether you want taxes to be reflected in the price of the product or appear separately.
5. Test it out!
Go through the entire buying process, from checkout to delivery, and see if you can improve the process!
We recommend buying a sample product yourself and seeing how your supplier handles the order fulfillment before going live.
Top Dropshipping Companies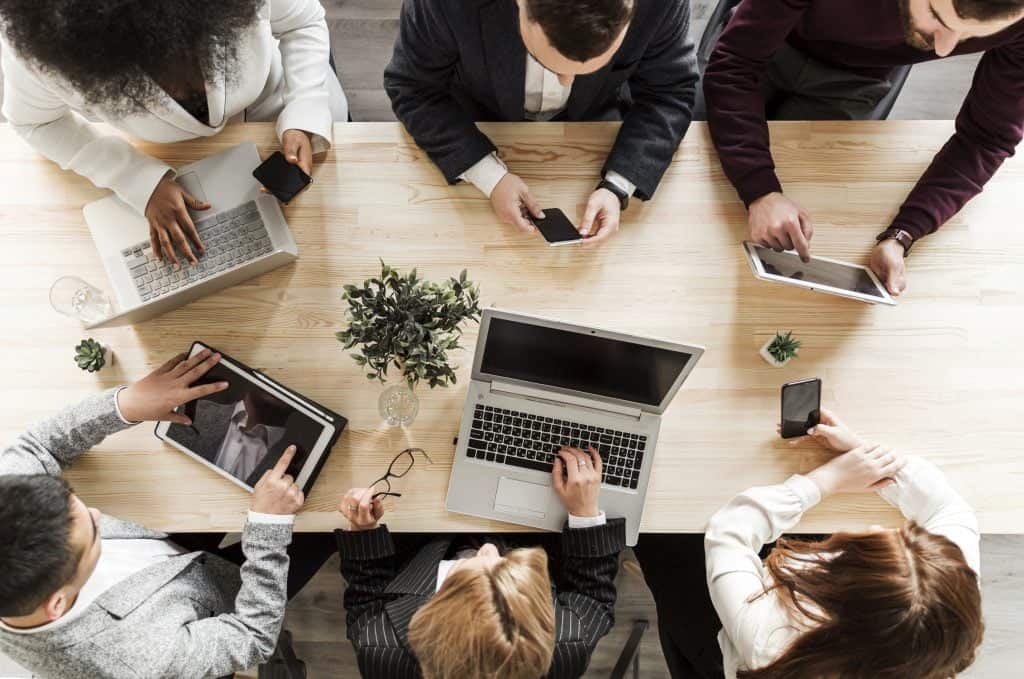 Finding a good dropshipping company is essential. One way to avoid common pitfalls is to have a trustworthy partner suited to your niche and needs. Here are five of the best options on the market.
WHOLESALE 2B
Wholesale 2B offers a great solution for anyone looking to start a large-scale operation. They are compatible with multiple eCommerce platforms as well as marketplaces like Amazon or eBay. 
Orders can be managed from a single beginner-friendly dashboard.
The platform also provides unlimited order processing. This is a nice feature as processing fees can creep up and eat into profit margins.
SALEHOO
SaleHoo offers one of the best services on the market at an affordable price. They work with over 8,000 pre-vetted suppliers and have a 2.5 million product catalog. 
Their market research labs provide visibility on trending products and calculate your profit margins for you. What's more, they also offer training resources that can prove valuable for beginners.
However, make sure that there are enough suppliers in your particular niche. 2.5 Million sounds like a lot, but what you're really interested in is quality suppliers that provide the specific products you're looking to sell!
SPOCKET
Spocket is an ideal partner for dropshippers who are focused on fast delivery. Over 70% of their suppliers are from the United States and European Union. This can cut down delivery times by weeks.
They offer order tracking, and their one-click import feature takes a lot of hassle out of adding products to your store.
Be advised though, that Western suppliers usually practice higher prices and can therefore lower your profits. You'll have to hunt for better profit margins or make it up with higher volumes.
OBERLO
Oberlo is a reputable company with a great free starter plan. It offers impressive functionality and seamless Shopify integration.
But Oberlo is exclusive to Shopify. It won't integrate with any marketplaces or other eCommerce platforms. So if you've chosen a different solution, you're out of luck.
PRINTFUL
Printful is a great platform that allows you to personalize the items that you want to sell.
It's great for anyone who is looking to dropship branded products. It's great for artists and influencers, but you don't need to be either to get into this business and make a profit. All you need is a bit of creativity and access to a good print-on-demand (POD) service.
Printful offers top printing technology and quality items. They're an excellent option for anyone looking to get into the POD dropshipping model.
Pros & Cons of Dropshipping
As with any business model, there are advantages and drawbacks to dropshipping. Here are the most important ones to be aware of.
Pros
Small Initial Investment
One of the main advantages of this model is its accessibility to budding entrepreneurs. Upfront costs are minimal.
Unlike traditional retail, you won't need a storefront, an inventory, or a warehouse. 
Most platforms have free trials, so you can get your feet wet without any investment at all. If your business works, you will only need to pay for your chosen platform and a couple of optional tools to get started.
High Flexibility
With dropshipping, you have a lot of flexibility on multiple fronts.
If you're a beginner, you can keep it as a side hustle and only dedicate as much time as you can spare.
If you're looking to expand or try out new products in your niche, you don't have to make risky investments and get stuck with unsold stock.
Ability To Pivot
If you've opted for general branding, you can always take your business and pivot in a new direction.
Once you grow your platform and start seeing serious returns, you might want to sell your own brand. Or you might want to start buying your best sellers in bulk and sell them at a better margin. 
Also, you might want to turn your site into more than just a store. There are so many possibilities!
Cons
Reduced Control
Because you're not holding or shipping the product, you have little control over the fulfillment process. Whatever issues come up with a delivery, you'll be at the mercy of your supplier. This means that solving customer issues can be challenging.
Lower Profit Margins
This business model has lower profit margins than traditional retail. Most of the profit margins retailers make come from accessing lower prices by buying in bulk. You won't have that option.
High Competition
Because there is a low barrier to entry, there is also plenty of competition. Choosing the right supplier and product will be essential for success.
Get The Most Out Of Dropshipping
In order to turn your dropshipping business into a success, you need to integrate marketing tactics into your business model.
Conduct Research
Before you purchase a domain or decide on a name, do your research.
See if the type of product you want to sell is in a highly competitive space or if there's wiggle room.
Check out what products are working within your niche and try to find more affordable alternatives or cheaper suppliers. And always go for reputable suppliers.
Leverage SEO
SEO or Search Engine Optimization is a crucial customer acquisition channel. 
Getting traffic from search engines is free, and once you're established in the top results, you'll have a reliable stream of visitors.
Make sure that your website follows best practices and your products have keyword-friendly descriptions.
Familiarize yourself with key concepts and how they apply to the dropshipping model.
Create A Social Media Presence
Building a social media community is a great way of getting the word out about your products. 
Maintain a presence on Facebook, Instagram, and Twitter. Create an organic following and get your brand in front of as many eyes as possible.
Get Into Content Marketing
Content marketing uses article and blog-style posts to provide valuable information to potential clients. Write product guides and in-depth pieces that will establish you as an authority in your niche.
Check out this guide on how to use content marketing for dropshipping.
Get In Touch With Email Marketing
Create your client list by offering freebies in exchange for client emails. Offer a free guide or infographic and get the most out of your visitors.
Effective email marketing has excellent conversion rates because the audience you are reaching out to is already interested in what you have to offer!
Explore Paid Advertising
Paid advertising takes many forms. From Google Ads to Facebook Ads, paid ads can be a profitable way of getting your brand and products exposed to a targeted audience. 
But this sort of advertising is not cheap. Ensure that you can afford to run a good campaign and have the know-how to optimize it. Find out some basics here.
Print On Demand Dropshipping
Print on demand is another form of dropshipping that is gaining more and more popularity nowadays.
This business model involves putting your own creative designs on products that are provided and shipped by a supplier. Your ideas can be featured on mugs, t-shirts, masks, and even jewelry.
It's a great way to build a brand, and the venture is just as low risk as regular dropshipping. All of the costs for the manufacturing and shipping of the product are left on the supplier.
Here's a more detailed explanation of how you can start your own brand with print on demand.
Most Common Products for Dropshipping
If you've decided to give dropshipping a go, your next challenge will be choosing your niche. Here are a few insights that can help you determine what can work for you.
Low Price Products
Products that cost $10-$15 can be very successful because they're great as impulsive purchases. Pet toys or accessories, keychains, or toothpaste dispensers can be great volume sellers.
Rare Products
Products like industrial machinery or large power tools can be hard to find. Doing your research and finding products that Amazon doesn't service can prove to be a great competitive advantage.
Trending Products
Marketplace dropshipping can provide a lot of flexibility because you won't have to choose a niche or industry. You're not limited by a certain niche or industry so that you can sell and promote the top trending products at any given time. Whether it's slime or fidget spinners, you can jump on it and capitalize!
And if you're looking for inspiration, here's a list of products to sell in 2021:
Slime
Fitness Trackers
Rice Cooker
Wireless Chargers
Thermometer Gun
Water Filters
Air Purifiers
Wooden watches
Knitting Kits
Hair Growth Shampoo & Serum
Deshedding Pet Gloves
Thermos
Drones and Accessories
Face Rollers
Phone Cases
Red Light Face Mask
Calligraphy Supplies
Melatonin Gummies
Foot Masks
Tool Belts
And that's a wrap!
We hope this guide was helpful and that it sparked your enthusiasm. We wish you the best of luck with your online business!