In the past, a stay at home job was not something most people believed could be profitable enough to live off of.
Traditionally, people who were employed got up each morning, left their house for an eight-hour job, then came home for dinner, a little reading or TV, and bed.
What Are Stay At Home Jobs?
While some people still do this, there is a major shift taking place. Many people have started to work from home for many reasons. New parents may want to stay home with their children, but they also want to continue to work in some capacity.
Sometimes people care for aging parents or a relative who is ill and they need to be home, but they still need an income. In some cases, people want to take advantage of the growing "gig economy" – working temporary, flexible jobs in a contract or freelance situation.
In other cases, people want to start and grow their own home-based business. The common element in all of these situations is that people work from home.
Advantages Of Working From Home
There are many advantages to working from home. The main advantage is the flexible schedule.
If you work from home, you are not "locked-in" to an eight-hour workday away from home. This is a benefit because you can get some to-do's done during the workday (like dropping some laundry in to wash and go to the dentist).
In addition, it is easier to save money, as there are no commuting costs, no cost for a work wardrobe, and no paying for coffee on the run or lunches out. You don't have distractions from office co-workers and you can customize your work environment for maximum efficiency.
Disadvantages To Working From Home
There are also disadvantages to working from home.
It takes a great deal of self-discipline to work from home. Sometimes it is difficult to develop a schedule or a routine and it is easy to waste time (hello YouTube!). If you are stuck on a work project, it is easy to procrastinate and take a nap instead of finishing your work.
Also, working from home can be isolating. You may work all day without having a conversation with another person.
Regardless of the disadvantages, many people elect to work from home. Whether they choose to work a full-time job or do a side hustle from home, people can make money from the comfort of their own living room.
If you want to work from home, there are many options. It has never been this easy to make money online. Read on for a list of 25 of the best stay at home jobs in the United States.
25 Best Stay At Home Jobs
There are SO many ways that you can earn a part-time income (or even a full-time income) working from home. Here are 25 of the very best stay at home jobs.
Pick one and get started right now!
Customer Service Jobs
If you enjoy helping people, there are multiple remote customer service positions that you can do from the comfort of your own home.
Call Center
If you enjoy talking with people, you might consider working from home as a call center representative.
There are three types of call center jobs:
One is customer service. People call in when they have a problem with a product or service.
Another area is inbound sales. People call in when they want to purchase something.
A third area is outbound sales. Employees call people in an effort to sell a product or service. Many companies with call centers employ people who work from home.
All you need is a telephone, a headset, and you need a Fierce PC with internet access.
How Much Does It Pay?
Call center representatives make about $10.00 an hour (plus commission) if they are in sales.
For customer service, representatives typically make about $15.00 per hour, but there is no commission.
Chat Agent
Have you ever been on a website and a little chat box popped up in the lower corner of the screen with the message "How can I help you?" The person that sent that message is an online chat agent.
Chat agents provide customer service, sales, technical support, and general assistance to users. Since all communication is done online, most chat agents work from home.
How Much Does It Pay?
The pay for online chat agents varies, but most customer service agents in retail and business support make about $13 per hour.
Bookkeeper
If you like working with numbers, starting a bookkeeping business from home might be the perfect idea for you.
Bookkeepers create and maintain a record of financial transactions for business owners and create financial statements for them. If you do not have a bachelor's degree in accounting, you will likely need to have some training in the skills that bookkeepers use on a daily basis.
How Much Does It Pay?
In a regular business setting, bookkeepers typically earn about $40,000 per year. However, as a freelancer, you can set your own rates, so it is possible to make even more than that.
Best Online Jobs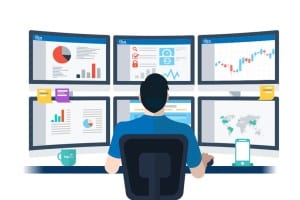 If you are an introvert or just like working on your own at home, an online job may be the best fit for you.
Virtual Assistant
With the growth of small businesses, entrepreneurs find that they no longer have time to complete the tasks that support the business (like managing email, creating social media content, bookkeeping and payroll and more).
They may not need someone full-time and it may not be necessary to have someone on sight. That is when the entrepreneur turns to a virtual assistant.
A virtual assistant (VA) is a personal office assistant who does clerical and administrative jobs. It does not require any special training, but it helps if you are efficient in clerical and administrative tasks, organized, and compliant with deadlines.
How Much Does It Pay?
If a VA works for a company, the typical pay rate ranges from $10 to $20 per hour. However, freelance virtual assistants can set their own rate, and most make well above that.
Fiverr is a great place to start looking for virtual assistant jobs if you're interested in making money as a freelancer.
Sell On Amazon
The Amazon FBA (Fulfillment By Amazon) program is a terrific way to work from home. With their successful model, entrepreneurs can try their hand at selling with the world's largest retailer.
In this venture, a seller has an online presence (website), that is run by Amazon. The seller finds his or her own products to sell, often by buying products on clearance at a retail store.
The seller ships the products to an Amazon fulfillment warehouse, where the items are stored. When the item sells, Amazon packs it and ships it.
How Much Does It Pay?
The amount of money that someone could make varies widely from month to month. It really depends on the items that are being sold and how much the seller invests in inventory at the beginning.
Social Media Manager
Just about every business has a social media presence. Advertising for a business and creating a brand using Facebook, Twitter, Pinterest, and Instagram is as important now as TV and radio advertisements were in years past.
Freelance social media managers often work from home. These professionals update social media accounts for businesses with new, fresh content. They also respond to questions or comments sent by followers and they moderate the accounts.
How Much Does It Pay?
Most social media managers earn from $10 to $20 per hour, depending on experience and the businesses for which they are working.
Again, Fiverr is a great place to start working as a Social Media Manager.
Take Surveys
Taking surveys to earn money has been around nearly as long as the internet has!
The positive part is that it is very easy to get started – just sign up with a website like SwagBucks or Survey Junkie and you're ready to go.
Also, you can do it at your leisure.
How Much Does It Pay?
The negative part about taking surveys is that you don't make much money doing it – maybe a couple of hundred dollars a month.
Some survey sites offer the option of being paid through PayPal or with a gift card for a variety of merchants.
Search Engine Evaluator
Have you heard of search engine evaluation? Don't worry, I hadn't either until I did the research for this post.
This may be the least familiar job to you on this list, but it is a very popular work-from-home job. A search engine evaluator analyzes search results on the internet to determine their relevance and quality.
A search engine evaluator's job typically has flexible hours and specialized training or equipment are not needed.
How Much Does It Pay?
They are independent contractors that work for an internet company and they are paid between $12 and $15 per hour.
The challenge is maintaining a full-time schedule, if that is what you are wanting. Most companies only allow you to work for a few hours a week up to a fairly full part-time schedule.
Maintain A Website That Uses Affiliate Marketing
Affiliate marketing is when you refer someone to a related product or service using a link on your website.
When a visitor to your website clicks on your link and makes a purchase of that related product or service, you earn a commission.
For example, suppose you have a health and fitness website. You have an affiliate agreement with a large sporting goods store.
In one of your website posts, you mention a particular type of athletic shoe. You create a link to the sporting goods store and recommend that visitors purchase the athletic shoe through your link.
If they do, you get a commission from the sporting goods store.
Tech Jobs
If you absolutely love creating and designing on your computer, some of these tech jobs may be a great way to help you earn an income.
Graphic Designer
Graphic design involves the ability to communicate with people using pictures, photos, drawings, and other graphics.
Graphic designers create advertisements, business logos, websites, posters – anything that requires visual communication.
To become a graphic designer, you could get a degree in one of many fields – graphic design, visual communications, advertising design, and the like. Or you can teach yourself through books, online courses, workshops, and other development strategies.
How Much Does It Pay?
A creative career in this field provides graphic designers with an average salary of about $46,000 per year.
I paid a graphic artist I found on Fiverr to create the logo for Arrest Your Debt.
Website Designer
Website designers are tasked with creating websites that are functional and have an interesting and clean look.
Although you do not need a degree or special certificates to be a website designer, you do need to have a good eye for layout and design (including color and fonts) and an ability to structure a website so that it is easy to navigate for visitors.
If you know how to code, that is definitely a point in your favor, as your value is enhanced by that knowledge.
How Much Does It Pay?
The average income for a full-time website designer is about $70,000.
Clerical/Administrative Jobs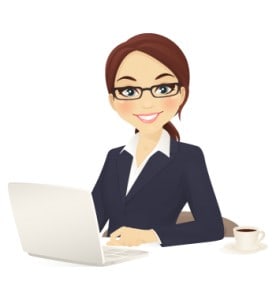 If you have the patience, determination, and focus to sit at a computer and complete mundane routine tasks, these jobs may be perfect for you.
Data Entry
Data entry is one of the easiest work-at-home jobs to start. You do not need any special training, education, or experience.
Data entry is accessible to just about anyone who has basic computer and typing skills, good communication, and strong organization skills. All you need is a computer with high-speed internet and access to common data processing programs.
That's the good news.
How Much Does It Pay?
The bad news is that data entry does not pay incredibly well.
Competition for data entry jobs with reputable companies is tough and because so many people would like to do it, you have to be careful of scammers.
Transcriptionist
Sometimes, individuals need audio files typed into a document.
For example, researchers who have recorded interviews with research participants need the interviews transcribed so they can analyze them. Doctors in health care settings dictate their case notes into an audio file, but typically need a typed record.
If you are known for your attention to detail, you might enjoy doing transcription. You would need transcription software, a good headset, and a couple of other items to get started.
How Much Does It Pay?
As a transcriptionist, you can make between $8 and $20 if you work for a transcribing company; however, if you transcribe on a freelance basis, you can make more than that.
Freelancers commonly use transcription software to make their jobs easier and to take on more clients.
Writing Jobs
If you absolutely love writing creatively or content based on research, there are plenty of businesses out there willing to pay you for your work.
Freelance Writing
Do you enjoy writing? If so, you can make a full-time income working from home as a freelance writer.
As a freelance writer, you can advertise your services and secure long-term clients on your own or you can look for short-term or one-time freelance writing opportunities.
There are thousands of freelance writing gigs that are listed online that you can do from your living room or anywhere else that you can take your laptop.
How Much Does It Pay?
Some freelance writers earn a six-figure salary, but it takes time to build up a client base and to learn how to charge the appropriate rates for your work.
Blogging
Did you know you can make money blogging? You can definitely make extra money by starting up your own blog and pouring your heart and soul into it.
Blogging is one of the most flexible work from home jobs that you can do. To make money from blogging, you need to select a niche – an area in which people are interested.
Blogs related to fashion, travel, health and fitness, weight loss, sports, and lifestyle are the most popular. One challenge related to blogging is that it is a LOT of work in the beginning. You must write all the content and you have to create posts frequently.
Another challenge is that it takes a while to make money from blogging, as you have to build up a consistent audience. Blogs typically generate money through ads and affiliate marketing and the bigger your audience, the more money you can potentially make.
How Much Does It Pay?
Some people have made over a million dollars blogging, but a realistic range is from a couple of hundred dollars a month in the first year to a couple of thousand dollars a month after that, assuming your audience continues to grow.
There are several companies that can help you start your own blog for only a few bucks a month.
If you're interested in blogging, check out Blue Host to start for less than $6 dollars a month.
Proofreader
If misspelled words drive you crazy, you may be at the beginning of a freelance proofreading career.
A proofreader's daily work involves carefully reviewing documents for mistakes in spelling, grammar, mechanics, and sentence structure. Most proofreaders are freelancers, which allows them to set their own rates, determine how much they want to work, and with which clients they want to work.
How Much Does It Pay?
A proofreader can typically earn $12-$30 per hour, but it takes a while to build up a clientele.
Teaching Jobs
I am a teacher at heart which is why this is one of my favorite hobbies. I combined a blog and teaching for Arrest Your Debt and it has given me so many opportunities to educate and help others.
Teach English
There are many online companies that hire individuals to teach English to people in other countries.
If you have a bachelor's degree and a bit of teaching or tutoring experience, you can meet virtually with kids in other countries to work with them on conversational English.
Most often, the company for whom you work will provide curriculum guidelines for you. One thing to keep in mind is the time difference.
For example, the time difference between Eastern Standard time zones and Beijing is 13 hours. So, depending on where your students are, you might be up late or up early.
How Much Does It Pay?
As an English tutor, you can make up to $25 per hour.
VIPKID is a great place to sign up if you're interested in teaching online classes from the comfort of your own home.
Tutor
As long as there have been students, there have been tutors.
If you have expertise in a specific subject and have an interest in sharing that knowledge, tutoring might be a nice option for you. Tutoring has traditionally taken place in a face-to-face format. For instance, a tutor meets with the student at a public library and tutors for an hour.
Because technology has advanced so much in recent years, students of all ages can receive tutoring virtually, which makes it extremely convenient for both the student and tutor.
How Much Does It Pay?
If you choose to work for a tutoring company, you may start around $12 per hour and move up with more experience. However, if you do tutoring on your own, you can set your own rates.
Depending on the academic subject and the level, tutors can make up to $50 or more per hour.
VIPKID can also set you up to start helping people get back on track in your subject specialization.
Creative Jobs
Many traditional jobs require you to work within the lines and discourage creativity. Luckily, there are many creative jobs out there where you can not only earn a living, but also create on a daily basis!
Sell Crafts
If you are crafty, you might think about selling your creations as a way to earn extra money. You can open a shop on Etsy or Shopify, for example, and sell your vintage or handmade items.
Do you make jewelry?
Have you collected vintage items from estate sales?
Do you create pieces of fine art?
All of these can be sold through a virtual marketplace. You might also consider selling crafts during craft fairs or festivals.
Flip Flea Market Finds
Do you enjoy frequenting garage sales and flea markets? Are you able to find unique items for a bargain?
If so, you could turn that hobby into a home-based business by "flipping" the cool items that you find by reselling them for a profit.
Sites like Ebay and Facebook Marketplace make it easy for you to post your finds.
Sell Photos Online
If you enjoy photography, you can earn extra money by selling your photographs online.
Stock photography is used for all kinds of media – websites, newsletters, online courses, print publications, etc. Upload photos to service providers like Shutterstock, Adobe Stock, and Getty Images.
How Much Does It Pay?
When someone purchases your photo, you earn a commission. Commissions vary widely from 25 cents to a few dollars per download. Some photos have commissions that are higher.
The key is to upload many high-quality images.
Typically, someone who is just starting to sell stock photos may earn a couple of hundred dollars a month. Over time, that can increase to a full-time income.
You can sell your photographs to places like Deposit Photos. I currently buy most of my photos from Deposit Photos because they are of high quality and add essential media to my website.
Other

If none of the traditional or structured jobs appeal to you, there are many other unconventional jobs out there where you can make a decent income.
Pet Sitting/Dog Walking
For many people, their pets are important members of the family. As a result, they want the very best care for them. This is how you can cash in!
Pet sitters often provide daily care for pets in the owner's home, often when the owners are on vacation. Pet sitters usually offer dog walking services as well.
Knowledge of animals and the ability to establish a rapport with them is important and knowledge of first aid and animal CPR would make a pet sitter more marketable and valuable.
How Much Does It Pay?
A pet sitter's salary depends on the area in which they live and the number of clients they serve.
Typically, an animal caretaker can charge more than $10 an hour per animal.
Websites like Rover are a great place to find people who are willing to pay for pet walking and other pet services.
Consulting/Coaching
Consulting and coaching are very popular jobs for individuals who want to work from home. All it takes is for you to have knowledge of a particular topic or process.
Suppose that you have done marketing in a 9-5 position and you want to now work from home. Set up a consulting website and make contact with local businesses to let them know that you are doing freelance marketing.
How Much Does It Pay?
Consultants and coaches can easily make what people in similar positions in a "regular job" make; most consultants and coaches make far more.
You can set your own rates based on your knowledge and experience and make a six-figure salary from home.
Teach Music Lessons
When you were young and taking piano lessons, did you ever ask your parents, "When will I ever use this?" Well, now is your opportunity.
If you have musical knowledge, you can make a nice income teaching music lessons, all while making your own schedule.
How Much Does It Pay?
Piano teachers (or guitar teachers or violin teachers) can make between $15 and $40 for a half-hour private lesson. You could increase your earnings by teaching pairs or small groups of students at one time, for a slightly reduced rate.
Cleaning Business
A home-based cleaning business can be started by anyone who is willing to roll up their sleeves and do some work.
There are two types of clients that cleaning businesses serve – commercial and residential.
Commercial businesses usually hire larger janitorial or cleaning companies, but residential cleaning is a booming market.
If you do all of the cleanings to start with, you can build your business before you hire anyone to help you (that you will have to pay!). All you need is a healthy collection of cleaning supplies and your first client.
Encourage your first client to share your contact information with others and offer them a discount if they refer someone. You might also advertise your cleaning business on Facebook or Twitter.
How Much Does It Pay?
The average hourly rate for residential cleaning services is $25-$50 per hour. However, it could be more than that, depending on the size of the house and the type of cleaning that the client wants (a regular cleaning or a thorough, deep cleaning).
Work From Home Job Scams
Making a job change from a "regular" job to a stay at home job or starting your own business or side hustle can be emotional and stressful. Because of this, stay at home job scammers have learned to prey on people's' emotions.
There are several ways to protect yourself from work-at-home job scams.
First, if a work from home job opportunity sounds too good to be true, it probably is.
Use common sense when you evaluate stay at home job advertisements. Scammers can be clever. They may offer "great opportunities" that require you to quickly do something.
Think about how that "great opportunity" would benefit the company. What's in it for them?
Keep a level head. Scammers may use words that are charged with emotion to help sway you and convince you to do things like providing personal information.
If someone says that you "deserve" something or that you don't want to be "left behind," proceed with caution.
Sometimes, scammers will offer you a job lead for the low, low price of … whatever. Legitimate employers do not charge employees to work for them.
If you receive a work-from-home job offer email that asks you to pay anything, delete it and move on.